City guide / Galleries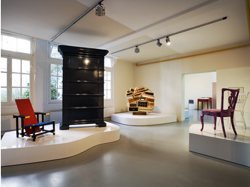 Droog at home
Staalstraat 7b
Amsterdam, The Netherlands

Tuesday to Saturday 11:00 - 18:00. Sunday 12:00 - 17:00.
Droog aims to bring design to the public through presentation and events, in stores, galleries and museums worldwide. Situations in daily life or developments in the fields of design, technology, fashion and architecture are at the base of our presentations and events.
The Droog flagship store is in Amsterdam, home to the Droog collection, Droog's studio work and the Friends of Droog collection. Many events are also organised at the flagship store. The building of the store dates from the 17th century, when the Dutch 'Staalmeesters' met here to sample the products of the textile industry. The facade still is in the original state, but the interior has been renovated in the seventies. Droog got here in 2004 and left the ground floor pretty much as it was. In 2008, Droog asked artist Franck Bragigand to add his colour spectre expertise to it.
---