City guide / Galleries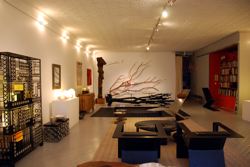 Cristina Grajales Inc.
10, Greene Street - 4th Floor
NY10013 New York, United States

T : +1 212 219 9941
F : +1 212 966 2620
www.cristinagrajalesinc.com

With twenty years of experience, Grajales has established herself as a tastemaker and trendsetter both in contemporary and twentieth century design. Founded in 2001, her lecture series titled Dialogues with Design Legends at the 92nd street Y was the first of its kind. Grajales, widely considered an expert within the design field, is a frequent guest lecturer, panelist and contributor to various publications. Cristina Grajales Gallery maintains a full program of exhibitions.The gallery also offers advisory and design consultancy services to assist in building and maintaining important collections.
---