City guide / Museum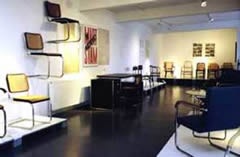 The Thonet Museum
Michael Thonet Straße 1
D - 35066 Frankenberg, Germany

Monday 2 - 5 pm ; Wednesday 2 - 5 pm ; Friday 2 - 5pm.
T : +49 (0)64 51 508 119
www.thonet.de

Michael Thonets life's-work reflects in an impressive way the changeover from handicrafts to industrial mass production in the 19th century. Yet the success of Thonet manufacturing is based not only on perfecting the bending of solid wood. It took the entrepreneurial far-sightedness of the master cabinetmaker Michael Thonet to guarantee the permanent, on-going advancement of products and production techniques. The best proof of his extraordinary capabilities is the bentwood furniture which is still made today in Frankenberg according to Michael Thonet's originals. The Thonet Museum started in a very small way.
Many pieces could be acquired locally through purchase or exchange, for the factory has been manufacturing in Frankenberg since 1889. Georg Thonet, a great-grandson of founder Michael Thonet's, gave the collection its decisive impetus through his Passion for finding and buying up Thonet pieces, even in the furthest comers of the globe- The Thonet Museum was re-opened in 1989, exactly 100 years after the establishment of the Thonet Works in Frankenberg.
---