Designer
"When wandering in the shadows of confusion, i always try to find the secretive path of simple joys and true values. Harmony, love, happiness lead my way to brighter horizons. Faith is holding and guiding me. I try to share that strenght through my designs; through accessories, a shiny motto on a black silk dress, fantasy in chic, like a twist of wildness in sobriety, a wink of spirituality woven in the matter of the fabric.

With every collection i try to communicate that simple message of hope and Faith: even in the darkest times the promise of a light always shies. That is my Connexion to you"
.
Ilan Delouis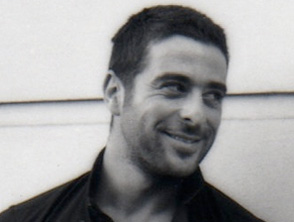 Label
Faith Connexion is a new fashion statement that began with the convergence of two great talents from two different universes: the impetuous,irrational, mystical and yet hedonistic world of Ilan Delouis associated to Christophe Bosc's international experience in business.

Ilan Delouis, the founder and designer of the brand, breathes a transversal image into his collections inspired by his own line of life. Christophe Bosc offers his 20 years of experience in management and development for the fashion and luxury industry towards the growth of Faith Connexion.

Faith Connexion is stylish, sexy, chic and rockn roll using simple cuts, elegant fabrics and sophistication in detail seducing both women and men. Unique and modern, it has inscribed itself in the realm of today. Faith Connexion confidently bears its strong and very significant words inspired by its concictions and values which find an echo in its fashion enthusiasts around the world.
Sophistication combined with casual wear associated to universal brand values is the key to the instant and overwhelming success supperted by the Faith Connexion boutiques in the fashion capitals. After Paris, Cannes, St.-Tropez, Riga, Koweit City, Faith Connexion and its local partners are opening new boutiques in Prague, Saint Petersburg, Zagreb Dubai, London...
The brand spirit is expressed through an accomplished store concept designed with black furniture, giant wall posters; a fashion statement in a unique atmosphere where the brand image is strongly stated and labelled through the Faith Connexion Coat of Arms,jewellery,accessories...
Faith Connexion team is advocated by Fashion Investment Specialists and has developed an international network of agents and distributors who have convinced over 1000 multi-brand boutiques in 40 countries around the world.
Contacts & showrooms
Faith Connexion
Showroom contact
Sales Manager
61, rue Servan
75011 Paris, France


Faith Connexion
Showroom contact
Press Contact
61, rue Servan
75011 Paris, France


Boutiques
Boutiques Faith Connexion
Almaty
Faith Connexion
Nagibini Avenue, 32/2 - Megacenter Horizont
Almaty
Kazakhstan
T : +7 (863) 27 25 279
Bratislava

Faith Connexion
Aupark - Einsteinova, 18
Bratislava
Slovakia

Ekaterinburg
Faith Connexion
Melisheva, 16 - Hermes Plaza
Ekaterinburg
Russia
T : +7 (343)38 50 518
Hvar
Faith Connexion
Fabrika bb.
21450 Hvar
Croatia
T : +385 21 71 72 24
Kharkov

Faith Connexion
Ultra Petrovskogo, 5
Kharkov
Ukraine

Lyon
Faith Connexion
21, rue Ferrandière
69002 Lyon
France
T : +33 (0)4 72 40 05 58
Marseille
Faith Connexion
32, place aux Huiles
13001 Marseille
France
T : +33 (0-4 91 33 66 04
Megeve
Faith Connexion
95, rue Charles Feige
74120 Megeve
Switzerland
T : +33 (0)45 21 98 26
Metz
Faith Connexion
5, rue Ladoucette
57000 Metz
France
T : +33 (0)3 87 37 04 82
Naples

Faith Connexion
via Carlo Poerio, 26
80121 Naples
Italy

Paris
Faith Connexion
40, rue du Four
75006 Paris
France
T : +33 (0)1 42 22 44 48
Praga

Faith Connexion
Malostranske Namesti, 3 prague 1
11800 Praga
Czech Republic

Saint Tropez
Faith Connexion
10, rue Clémenceau
83990 Saint Tropez
France
T : +33 (0)4 94 97 04 64
St Petersburg

Faith Connexion
Rybatskaya, 4
190 000 St Petersburg
Russia

Zagreb
Faith Connexion
Gunduliceva, 8
10000 Zagreb
Croatia
T : +385 1 55 09 836