Designer
Benoit Jamin & Isabelle Puech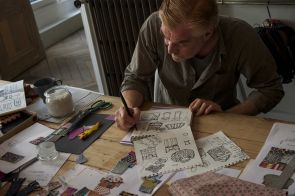 Label
Jamin-Puech was founded in Paris in 1990 by a couple of young fashion designers. Their handbags collections offer an outstanding originality, their diversity of influences and the quality handwork as well as constant new collections, make this company one of the most creative and renowned companies.

Handbags are distributed worldwide in the trendiest shops and department stores. The entire collection can be found in Paris, Milan, New York and Tokyo in Jamin-Puech boutiques.

The Jamin Puech style sincerely offers an aesthetic and poetic multifaceted world. A strong tradition that also remains opened to new possibilities. They happily mix past and present, western world fashion with other cultures, precious and sophisticated, their bags can also express humour and joy.
They are made of traditional materials as well as of modern ones and mix raffia, rattan, macramé, wood, nacre, horn, plastic, rhodoid, with simple cottons or precious silk. Leather has come back in fashion thanks to new treatment. The embroideries, plaiting and weaving, applied patterns, ribbons, pleats, frills, braids always go alongside in diverse clasps. All this makes a sophisticated finishing, that will be just as refined on the inside as on the outside of the bag. A wide range of colours, blossom on the prints and the mix of materials and textures, give the collections a unique style.
The décor inside their boutiques is made of ancient looking shop windows and counters give a warm and cosy spirit to the place and a perfect space for their creations, modernised by the presence of more modern materials such as rusty metal or raw concrete.
Don't wait any longer and be part of the JAMIN PUECH'S UNIVERS.
Catherine Gremillet
Commercial Director
T : +33 (0)1 42 82 10 83
F : +33 (0)1 42 82 18 07
cial@jamin-puech.com
Contacts & showrooms
Jamin Puech
Showroom contact
Sales Department France
Paris, France


Multilabel showrooms
Press contacts
Press offices
Avenue Communication
via Gian Battista Vico, 42
20123 Milan, Italy


Whisper PR
27 West 20th Street, Suite 305
10011 New York, United States


Boutiques
Boutiques Jamin Puech
Paris
Jamin Puech
26, rue Cambon
75001 Paris
France
T : +33 (0) 1 40 20 40 28
F : +33 (0) 1 40 20 40 28
Paris
Jamin Puech
68, rue Vieille du Temple
75003 Paris
France
T : +33 (0)1 48 87 84 87
F : +33 (0)1 48 87 84 87
Paris
Jamin Puech
43, rue Madame
75006 Paris
France
T : +33 (0)1 45 48 14 85
F : +33 (0)1 45 48 14 85
Milan
Jamin Puech
via Solferino 3
20121 Milan
Italy
T : +39 0292870584
F : +39 0292870585
London
Jamin Puech
54 Ledbury Road
W11 2AJ London
United Kingdom
T : +44 (0)20 72 21 30 59
F : +44 (0)20 72 21 30 59
New York
Jamin Puech
14th Prince Street
10012 New York
United States
T : +1 (212) 431 5200
F : +1 (212) 431 5200
Tokyo
Jamin Puech
5-2-11 Jingumae Shibuya-Ku
150-0001 Tokyo
Japan
T : +81 (0)3 54 64 27 80
F : +81 (0)3 54 64 27 80
---
Selection of multilabel boutiques
London

Harvey Nichols London
109-125 Knightsbridge
SW1X 7RJ London
United Kingdom

Hong Kong

Harvey Nichols
4th Floor, East Ocean Center 98, Granville Road
Kowloon Hong Kong
China

New York

Scoop Management
532 Broadway - 1st floor
10012 New York
United States

Los Angeles

H. Lorenzo
86/80 Sunset Boulevard
CA 90069 Los Angeles
United States

New York

Bergdorf Goodman
754 Fifth Avenue
10019 New York
United States

Milan

Gio' Moretti
via della Spiga, 9
20121 Milan
Italy

Santa Fe

Saks Fifth Avenue / Mexico
Santa Fe Shopping Center
Santa Fe
Mexico

Dubai

Saks Fith Avenue Bahrain
Burjuman, Khalid Bin Al Waleed Road, Box 71791
Dubai
United Arab Emirates

Dubai

Boutique 1
Emirates Towers Shopping Blvd Sheikh Zayed Road
Dubai
United Arab Emirates