FRANCE / Versailles: Bernar Venet at the chateau
Court case
published : June 16 2011
category : highlights
Contemporary art and the chateau of Versailles - a combination bound to cause controversy: the ARAP has refused to recall Bernar Venet's monumental sculptures.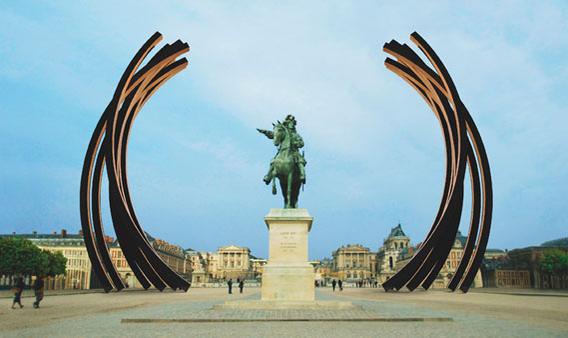 The ARAP, Association des riverains de l'avenue de Paris, went before the Parisian tribune, petitioning for Bernar Venet's artwork, 85.8° Arc x 16 to be recalled - recently erected at the place d'Armes, in front of the chateau of Versailles. With the administrative tribune denying the request on Wednesday 15th June 2011, Bernar Venet and the Public Museum and National Doman of Versailles are will be able to continue the exhibition until the 1st November 2011.

This is the third time that an affair of this sort has been taken to tribunal, what with the Jeff Koons and Takashi Murakami exhibitions also bringing a judicial battle to the chateau. Each time, the tribunes have sided with the Public Museum and the National Domain of Versailles.

As if to explain his work, Bernar Venet says that he saw "in Versailles huge, open spaces and endless prospects. That's why I was set on creating new sculptures for the exhibition, adapting them to the topology and scale of the place".

Adding to this, Jean-Jacques, president of the Museum and Public Domain of Versailles, outlined that "in choosing Bernar Venet, the chateau of Versailles wishes to valorise the artwork of an artist, whose work, intense and rigorous, never ceases to question the relationship that art has with the landscape and architecture, and equally with time and history".

Venet à Versailles

Eloïse Daniels © modemonline.com