FRANCE / Paris: ESMOD and THE CARLA BRUNI-SARKOZY FOUNDATION
Education
published : September 23 2011
category : highlights
Celebrating the school's 170th birthday, fashion professionals rallied together to create unique, personalised bags.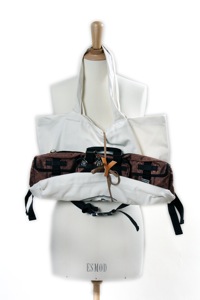 ESMOD is particularly keen to encourage young talents, so that they have access to education whatever their financial means.

The Carla Bruni-Sarkozy Foundation, created under the aegis of the Fondation de France on the 23rd April 2009 and operational since July 2009, aims to fight against illiteracy and to facilitate access to culture, education and learning with a means to fighting against social inequalities.

Sponsored by Jean Paul Gaultier, the Fashion bursary scheme offers pupils studying for their professional baccalaureate the chance to attend four of the most prestigious French fashion schools: Esmod, Lisaa, Atelier Chardon-Savard and the Ecole de la Chambre syndicale de la couture parisienne. The Foundation accompanies the students throughout their course of study from two to four years, offering financial support towards their tuition and maintenance. Following a call for applicants from seventeen partnered professional fashion colleges in Ile de France, 10 students were selected to receive a scholarship for the year 2011-12.

For the school's 170th birthday, a special operation which brought together all fashion professionals was put in place: bags which resembled shopping bags were made out of an untreated cotton, bearing on one side the logo for ESMOD's 170th anniversary.

The personalities (170 in all, labels or designers for the most part, like Carven, Gaspard Yurkievich, but also Inès de la Fressange and even David Guetta) who took part in customising these bags used a variety of techniques ranging from transfer to couture, embroidery to collage work, each starting with one common theme, the slogan of the anniversary, "ESMOD, souviens toi du future... remember the future".

As part of this anniversary event (ESMOD is the oldest fashion school in the world), the Esmod International Fashion University Group end of year show was held on the 30th June 2011at the Trianon.

As well as industry professionals, 14 foreign branches of the school (22 in total) participated in the representation, presented by Christine Walter-Bonini, director of the school, and journalist, Chrstiane Marek. With Paris, Lyon, and Roubaix a total of 17 cities proved the cultural richness of the school (Beijing, Oslo, Beirut, Damascus...).



The bags are one-off pieces and their price is fixed to a minimum of €170, with money made going to the Carla Bruni-Sarkozy Foundation. The bags were put online in the e-shop at the ESMOD 170th birthday site on the evening of 30th June 2011.

ESMOD PARIS
12 rue de la Rochefoucauld
75009 PARIS
+33 (0)1 44 83 81 50
Contact:
Simon LAFORCE
simon.laforce@esmod.com

www.170ans.com

Héloïse Keller © modemonline.com