FRANCE / Paris: Who's Next et Prêt à Porter Paris réunis
Tradeshows
published : September 05 2011
category : news
New dates and new established locations are in the 2012 programme.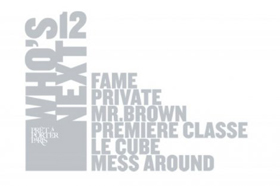 Saturday 3rd September, the press conference held by Jean-Pierre Mocho (Fédération du Prêt-à-Porter), (Renaud Hamaide, Comexposium), Xavier Clergerie and Bertrand Foäche (WSN Developpement) has revealed the the new course of action and projects for the first fashion session's which will run at the parc des Expositions at Porte de Versailles.

- Internationalising the first session and reinforcing Paris as International Fashion Capital.

For this, the agenda of events has evolved.
Winter collection: from January 21 to 24, 2012.
Summer 2012: from June 30 to July 3, 2012 (between menswear Fashion Week and the Couture shows).

- Bringing all the tradeshows together under the same banner: Who's Next Prêt à Porter Paris. Who's Next gives the image of a trend forerunner; PAP Paris gives the image of Paris and the international aura. The WSN are involved to treat the ensemble of the fashion markets, that is more than 2,500 exhibitors over 120,000 square meters.

- Benefitting from a unified network of agents. Reinforcing the welcome service for visitors.

- Clarifying the offer, making it coherent through established societies:

Hall 2 and 3: Fame women's ready-to-wear for the selective market.

Hall 2 and 3: Private (600 brands) for the ensemble of brands. Private will benefit from a space for the Who's Next runway show, the designers' shows, trend forums, personal shoppers…

Hall 4: Mister Brown (new). Market for 30-35 year-old men. Market for 15-25 year-old males, with whom societal trends are associated (like rap, electro, skate…).

Hall 7.1: Première Classe, accessories for the selective market.

Hall 7.2: Mess Around. Specialised distribution of men's, women's and children's shoes.

Hall 7.2: Le Cube (nouveau). Leather goods for specialist stores.

Florence Julienne@Modemonline