Modem Mag / Thematic folders
UKRAINE / Kyiv: 30th Ukrainian Fashion Week FW 2012-2013 Best Of
The Ukrainian Fashion Week was held on March 14-18, 2012 in Art Arsenal (National Cultural-Art and Museum Complex).
Poustovit
Fashion Week
category : thematic folders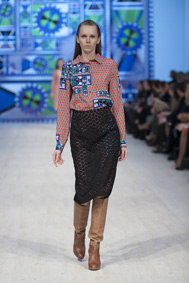 The Ukrainian Eksta Fashion Center was Liliya Poustovit's first job, where she broke professional ground. In 1994, the first show of her author collection took place at the Easter Wind Exhibition (Toulouse, France). In two years, the designer got Gold Button Grand Prix in Vogue Festival (Vilnius, Lithuania). In 1996, she also participated in Salon du prêt-a-porter Féminin (Paris, France) and Daniel Hechter Fashion House offered her work of a designer of prêt-a-porter feminine collection.

Shortly after, she came back to Ukraine. In 2004, she became a president of Ukrainian Fashion Syndicate, which eventually transformed into Ukrainian Fashion Council.

Currently, Liliya shows her collections twice a year for TM Poustovit at Ukrainian and Russian Fashion Week. She also develops a separate line for ATELIER 1 concept (POUSTOVIT for Atelier 1). The clothes designed by Poustovit are sold in 9 boutiques in Russia, Ukraine, Italie and Switzerland. But this autumn sell of the fabrics designed by her in Dover Street Market (London, Great Britain and Tokyo, Japan), Le Form (Moscow), 10 Corso Como (Seoul) and L'Eclaireur (Paris).

Romantic conceptualism with ethnic background is a strategic direction of the brand. As the designer says: "Our roots and traditions will always be a source of the Big Idea".