Modem Mag / Thematic folders
UKRAINE / Kyiv: 30th Ukrainian Fashion Week FW 2012-2013 Best Of
The Ukrainian Fashion Week was held on March 14-18, 2012 in Art Arsenal (National Cultural-Art and Museum Complex).
Tatyana Zemskova and Olena Vorozhbyt
Fashion Week
category : thematic folders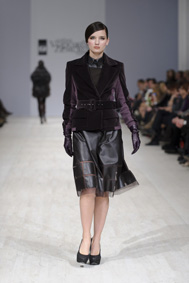 The style of the tandem Tetyana Zemskova and Olena Vorozhbyt is built on contrasts: intellectuality and severity with a keen sense of humor. There is a preciseness of the silhouettes and patterns, with love to details and little parts. Classic textiles with newfangled fashions. They work with contrasts of colors and tones, heat and chillness, risk and official styles, trying to combine uncombined.

There is snazzy tone play, from white to milk color. Factures are the most different and in couple make an emphasis of each other to open wealthy and variance of textiles. Dark details shade freshness and attractiveness of the white.

Since 1997 designers are working under their own brand «V&Z». By this time they began to show two every year season collections within Ukrainian Fashion Week.

Their clients are the elite of Ukrainian society. Many politics, businessmen, artists are dressed gorgeously by them. "High spirit creation" – is the basis of their art concept.