Modem Mag / Thematic folders
UKRAINE / Kyiv: 30th Ukrainian Fashion Week FW 2012-2013 Best Of
The Ukrainian Fashion Week was held on March 14-18, 2012 in Art Arsenal (National Cultural-Art and Museum Complex).
Zalevskiy
Fashion Week
category : thematic folders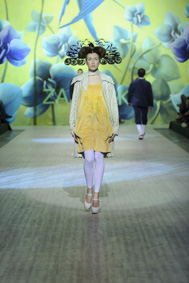 Mass-media calls him as king of avant-guard, infant terrible of Ukrainian Fashion, Show business stars and crowds of clients see him as a leading fashion designer of the craziest ideas. He doesn't afraid to risk, who creates his collections ahead of time, who suggest the wildest ideas and then realizes them.

Clothes from ZALEVSKIY is a mixture of styles: retro-chic, sport-glamour and theatrical kitsch, this is the mood of romance in the style of 50's, sexual Revolution of 60's and technological of 2000's ...

He was director of Black Pearl beauty contest, Kyiv catwalk fashion festival and numerous fashion shows of famous Ukrainian designers. The most disputable project of Aleksey is Fashion Aid (http://www.antiaids.org/en/), consisting of three Fashion AID unique social collections devoted to the fight against AIDS.