TAIWAN / Taipei: Dior Taipei 101 boutique
Stores
published : June 01 2012
category : news
With the 19,410 square feet, two-level boutique, this store is the largest Christian Dior flagship in the world.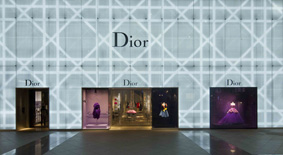 The interior was designed by Peter Marino and is in keeping with the design concept featured in Dior's worldwide flagship in Paris, avenue Montaigne. This concept combines 18th century details blended with modern elements.

The new boutique concept includes two rooms on the first floor devoted to Dior's complete range of handbags and leathergoods, as well as a fine jewelry room, which leads into a vip room for fine jewelry clients and a watch room. A staircase, revealing a custom wrought iron balustrade, invites clients to the second level, which features three ready-to-wear salons, one devoted to cocktailwear and eveningwear, an exclusive vip salon and a shoe room.

Dior commissioned several contemporary artists to design works of art for the boutique that reflect the codes of the house. These pieces include among others a circular Claude Lalanne ginkgo bench in the bag room, a Veronique Rivemale mirror in the fine jewelry room, a Not Vital sculpture at the bottom of the stairs, an Yoram Mevorach Oyoram video art installation along the staircase leading to the second level, a Rob Wynne mirror glass installation in the shoe room, a Hubert le Gall commode in the vip room and an Elizabeth Garouste table in the cocktailwear room.
Dior
Hsin-yi district, Taipei, Taiwan 110
From Monday to Sunday
Opening hours : 11:00 am to 9:30 pm
Store area: 19,410 square feet
Two floors
Products: ready-to-wear, leather goods, shoes, sunglasses, costume jewelry, scarves, fine jewelry, watches, menswear.