Christian Dior: His passion for the arts
Portrait
published : July 04 2012
category : highlights
His artistic path is rich in many encounters, discoveries and fruitful collaborations with artists.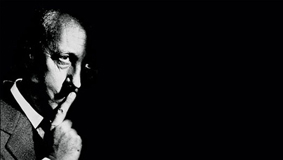 Throughout his life, Christian Dior holds steadfast to the happy memory of his childhood family home "Les Rhumbs" at Granville. He gets his taste for beautiful things from his mother, Madeleine Dior, with whom he creates the villa's pergola and the garden terrace in 1925. This period is the starting point of his engagement.

At the age of 20, Christian Dior shares his life between Granville and Paris where he lives to the rhythm of the Roaring Twenties; those post World War One years of a generation of young people eager for new experiences and creativity. He meets the composer Henri Sauguet, an admirer and close friend of Erik Satie, who introduces him to the artistic avant-garde.

Christian Dior frequents le Bœuf sur le toit, the hub of Paris night life founded in 1921, where personalities from high society rub shoulders with artists and celebrities. With Christian Bérard, Jean Cocteau or Max Jacob – all of whom become great friends – Christian Dior indulges in charades as well as musical improvisations and develops his taste for parties and fancy dress.

Christian Dior is then envisaging an artistic career and tries his hand at musical composition. The admiration he feels for artists commits him to putting all his energy into supporting them. He opens an art gallery in 1928 with Jacques Bonjean. Then he goes into partnership with the gallery owner Pierre Colle in 1931 and organizes numerous exhibitions before relinquishing this activity for financial reasons in 1934.

During these six years, his profound sensibility and his intuition, alongside Jacques Bonjean and Pierre Colle, lead him to discover promising talents such as Salvador Dali – whose very first exhibition in France is organized by the Pierre Colle Gallery in 1931 – Alberto Giacometti, Alexander Calder, the Berman brothers, Pavel Tchelitcheff and Christian Bérard or even Leonor Fini.

The three young gallerists also contribute to the notoriety of confirmed artists such as Max Ernst, Picasso, Matisse, Braque, Derain and Giorgio De Chirico or Raoul Dufy.