FRANCE / Hyères: Design Parade preview
Exhibition
published : May 22 2012
category : highlights
The 7 International Design Festival - exhibitions, conferences, meeting around an international competition open to young designers - is taking place from 29th June to 1rd July 2012.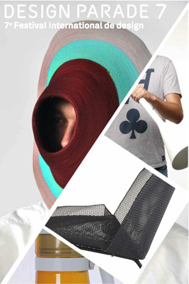 This year, Design Parade 7 feature :

. The permanent exhibition, dedicated to Charles and Marie-Laure de Noailles, is showing up with new set up of researches and updated art works selection.
. A collective exhibition of the ten competing designers.
. A personal exhibition of the french designer François Azambourg, also head of jury for the Design Parade 7 contest.
. Contemporary carpets thematic exhibition, set design by Constance Guisset.
. The exhibition of recent work in progress by Jean-Baptiste Fastrez and Brynjar Sigurðarson, Design Parade 2011 Grand Prix ex-aequo winners, with the support of Sèvres - Cité de la céramique, the International Research Centre on Glass, Arts of Marseille (CIRVA) and the Galerie kreo.
. The exhibition of works developed during François Dumas' workshop with design students from the Ecole Supérieure d'Art de Toulon Provence Méditerranée.
. An exhibition Sèvres - Cité de la céramique / Fondation d'entreprise Hermès devoted to their workshop «savoir-faire and modernity» led by students from the ENSCI - Les Ateliers and Sciences Po Paris.
. An exhibition of Morgane Le Gall photographs, commissioned by designers and publishers.
. A selection of outstanding objects edited between July 2011 and July 2012, shortlisted by Lidewije Edelkoort, Trend Forecaster.
. The designer Antoine Boudin, winner of the Agora prize, shows a work in progress in his own workshop, formerly gardener's house at the bottom of the park Saint Bernard.
. The architect Patrick Bouchain gives a lecture introducing the project Gandarillas, prototyping workshop for fashion and design, with the support of the villa Noailles.
. In partnership with Designer's Days, Design Parade 7 also welcomes three more lectures linked to developed themes in the exhibitions.
. A vintage and design fairis bringing together dealers specialized in 20th Century designs along with local nurserymen, specialists of palms and tropical plants, in the garden of the villa Noailles.
DESIGN PARADE 7
From 29th June to 1rd July 2012.
Villa Noailles
Montée Noailles - 83400 Hyères
Contact
Press Relations:
Philippe Boulet
All exhibitions are free admission, open to the public until the 30th of Septembre 2012.