ITALY / Milan: Le Grand Fooding - Pelle all'Arrabbiata
published : July 04 2012
category : news
Le Fooding is back! The 4th and 5th july, Milan at "Segheria", Via G. Meda 24, will host the 3rd edition of Le Grand Fooding.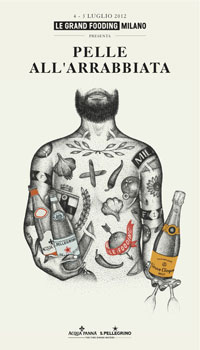 This year we are planning something really fun, a tribute to street food, a ode to young chefs with our event "Pelle All'Arrabbiata". Indeed the cooks will be a young generation of (tattooed!) chefs that grew up in a day to day reality, that lived the streets, whose inspiration comes from street food. For the event they will go back to their roots and explore this street food without any complexes.

The protagonists this year of the "Le Grand Raduno Eroico S. Pellegrino e Acqua Panna" will be:

Andreas Dahlberg and Wade Brown (Bastards, Malmo)
Vinny Dotolo and John Shok (Animal, Los Angeles)
Eugenio Roncoroni and Beniamino Nespor (Al Mercato, Milano)
James Lowe and Isaac Mchale (The Young Turks, Londra)
Jerome Bigot (Les Grés)
Matteo Torretta (Al V Piano/ Visconti Street Food, Milano)
Galdina della Seta (Galdina Pasticceria, Milano)

The special place chosen for the occasion will be embellished by Street Food Mobile with their Api Classic Piaggio readapted as kitchens "on the move".

Every evening, from 19:00 pm to 20:00 pm, the few lucky ones able to grab a "Premium" ticket (45 € on www.legrandfooding.com) will enjoy "Le Grand Scoppio Clicquot", a sparkling aperitif where diverse champagnes Veuve Clicquot will be paired with the chefs dishes.

At 20:00 pm, doors will open to all our followers who will have the chance to taste the chefs creations, enjoy the kitchen and the "street-like" atmosphere, while Djs Nicola Guiducci, Barbarella and Alex Carrara will spin their music loved by all the Milaneses.

Bedussi will refresh everyone with his handmade ice-creams, just before we all celebrate Aranciata San Pellegrino birthday with the the 80 "fuses" of an "explosive" cake prepared for the occasion by Galdina della Seta.
For the most insatiable one who will want to continue the night elsewhere the night will end on "Le Grand Notte d'inchiostro - Caffe Grand Cru Nespresso" that will enable them to stay awake and continue enjoying themselves.

The ticket costs 30 € and will be on sale online starting from June on www.legrandfooding.com.

Even this year, part of the proceeds will be given to CAF Onlus.



Il biglietto costerà 30€ e sarà in vendita online a partire dai primi di giugno su www.legrandfooding.com <http://www.legrandfooding.com/> .

Anche quest'anno parte del ricavato andrà in beneficenza a CAF onlus.