CHARLES FREGER: Carte blanche MODEM EUROPE SS 2013
Carte Blanche
published : July 02 2012
category : highlights
MODEM EDITIONS gave carte blanche to the artist CHARLES FREGER to present a selection of his precious drawings for the cover and interlayers of the June 2012 edition MODEM europe, dedicated to the Spring/Summer 2013 collections.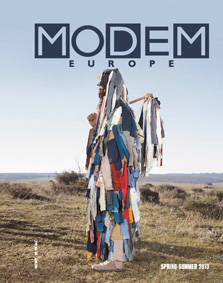 We have given "carte blanche" to "The French serials photographer" Charles Fréger. Born in Bourges in 1975, he is a graduate of the Rouen Art School. He dedicates himself to the poetic and anthropological representation of social groups such as sportsmen,pupils and soldiers etc.The style of the photos are often similar (viewpoint, color, lighting, distance between the photographer and his subject).

Charles Fréger's work thus questions the boundaries between individual and collective identity. His portraits, although poetic, are far from psychological. There's nothing picturesque about them either. He photographs his subjects like an entomologist pins his insects. There's also a touch of sociology and ethnology with his inexhaustible inventories of the most extraordinarily diverse social groups, many of which are slowly becoming extinct. These archives of social bodies, in a state of mutation, these families of mankind, if you like, are documented on a human scale, and free of embarrassing sentimentality; they form the inventory of this 34-year-old French photographer. He is also the founder of the artistic community Piece of Cake and of the POC publishing hous -www.pocproject.com "Wilder Man""series grew out of Charles Frégerfascination on the European mask culture going back to its Medieval roots,when masks represent a sum of everything the community fears,wants,all its defects or values. "Trapo"Zarramacadas de Mecerreyes,Spain (Modem cover) is a traditional Burgos area carnival mask.Zarramacadas are the King's (Rey) servants and are dressed in rags.

Charles Fréger wants to explore the Wild Man legend,in contrast with the modern man culture spoilt by everyday confort. Despite of representing the community these savages are solitary figures and almost forgotten now days,that the artist wants to immolate an celebrate to turn them inoffensive and make this obscure and archaic human instinct representation a social fact.

Charles Fréger is also the author of different books. His photographic series have been exposed in different Museums and Art Centres. The images in this Modem Europe edition are part of the book "Wilder Man". The French version is published by Thames&Hudson.The English one is made by Dewi Lewis publisher. The Italian version is made by Peliti associati and the German one is made by Kehrer.