GERMANY / Berlin: Winners Premium Young Designers Awards SS 2013
Prize given
published : August 01 2012
category : highlights
Julia Seregina, Moscow, Womenswear. Ryo Yamazaki & Kohji Yanagi for Breaks, London, Menswear. Livio Graziottin for Kuboraum, Berlin Accessories.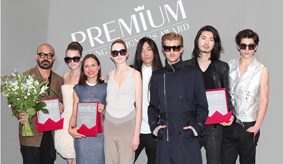 On the 3rd of July, around 150 guests came for the announcement of the winners of the PREMIUM YOUNG DESIGNERS AWARD S/S 2013. The PREMIUM directors Anita Tillmann and Norbert Tillmann were there to personally give out the awards.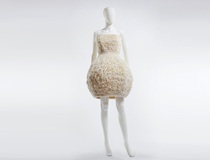 Julia Seregina, Moscow, Womenswear
With the complex handwork and fusion of various knitting techniques that go into Julia Seregina's couture, her clothes resemble wearable, alluring pieces of art. By using different needle sizes, tensions and mesh thicknesses she creates unusual forms and patterns that flatter and emphasise the female form with natural materials. Her second collection takes its inspiration from the global movement towards a greater awareness of our deeds and the impact they might have in the future.

Ryo Yamazaki & Kohji Yanagi for Breaks, London, Menswear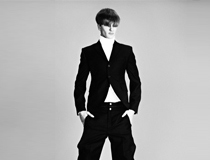 It was a shared love of fashion and the highest quality materials, exquisite leather, luxurious wool and cotton blends that first brought these two Japanese designers together. 18 months ago they settled in London and set up their label, BREAKS London. Their origins are reflected in the modern designs they skilfully combine with traditional bespoke tailoring. They consider their S/S collection a progression to a younger, rockier and flashier look. Add to that a hint of "Savile Row", the epicentre of men's bespoke tailoring.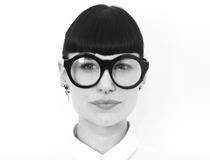 Livio Graziottin for Kuboraum, Berlin, Accessories
The spectacle label Kuboraum like to think of their glasses as a type of mask – a mask that adds a striking signature to a face and underlines the wearer's personality and character. All glasses are "dreamed in Berlin" and "handmade in Italy". The story of Kuboraum began in the premises of the Pastpresent studio & fashion gallery, a space for creativity, modernism and fashion. Modern design, excellent quality and a creative background make this a truly unique young label.

The award guarantees them a booth at PREMIUM for the coming seasons and integration in PREMIUM communication activities of PREMIUM. Their collections will also go on sale as part of the range at F95 THE FASHION STORE AT STATION-Berlin.
See Premium Web profile