FRANCE / Paris: First Menswear Tsolo Munkh
Fashion Week
published : July 13 2012
category : reports
June 2012: First presentation for Spring/Summer 2013 presented at Taiss Gallery.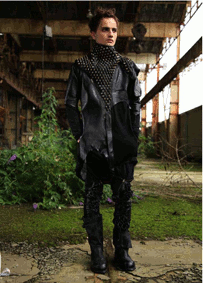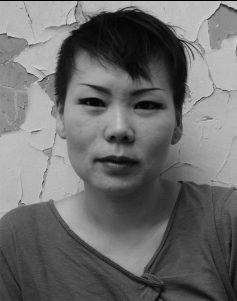 Tsolmandakh Munkhuu for Tsolo Munkh grew up in Mongolia. She moved to France in 2005 and studied at the Atelier Chardon Savard. In 2010, she won the Public Award of the Hyères International Fashion and Photography Festival and launched her very own brand. Now based in Oulan Bator, Tsolo Munkh presents her collections during Paris fashion weeks. Her creative projects are still heavily influenced by the mongolian steppes, but even though some designs are inspired by Mongolian and Buddhist traditional elements, TSOLO doesn't hesitate to take ideas from details of the worlds surrounding her. Her creations combine embroidery, paintings, creasings of recovered materials, and her use of ample volumes contrast with the cuts' fluidity.

About the first men collection SS 13: AQUILA CHRYSATEOS

"The Wild" is an inexhaustible muse. The dialogue of this collection relies on the traditional hunt technique, the Altaians use birds instead of gun. This duality is unified into one entity in the collection.
Two essential sources of inspiration are evident in this collection; the hunting methods of the mountainous Altai people of Afghanistan, specifically the figure of their bird of prey in their use for hunting, and the protagonist of Nicolas Winding's film, "Valhala Rising" who embodies the form of a human living the life of an animal.
As an hommage to the people of the Altai I wanted to redesign the finery by emulating the makeup of the eagle in the form of man. In Shamanism the eagle is a symbol of vigor, power, and creation. With its versatile faculty of traveling the heavens, the falcon still remains connected to the earth and material world. This truth arises in Nicolas Winding's film as well.
Strength and Power are two main values transposed from the falcon to human scale. The dark film of Nicolas Winding's "Valhala Rising" acted as a model for this collection. The protagonist being a mute and wild warrior is forced by the clan leader to fight with other men and after, a series of events and brutal battles drive the warrior in search of his own spirituality.
In this collection, a paradoxe between the animalistic side of the Human and the Religious exploration in the creation of a new Crusader between the eagle and warrior.
Decorated in formal context, pieces are ornamented with remains of the animal of harvest and materialized with the same skins thus taking the shape of the modern hunter".