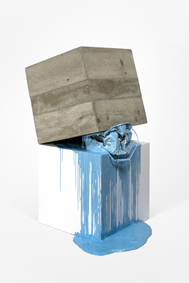 FRANCE / PARIS: BENJAMIN SABATIER "HARD WORK"
until Thursday July 12 2012
Galerie Jerome de Noirmont
T : +33(0)1 42 89 89 00
38 avenue Matignon
75008 Paris
France
press@denoirmont.com
www.denoirmont.com

Benjamin Sabatier is one of those artists who addresses the world. Since his performance at the Palais de Tokyo in 20021, his view and artistic practice are part of a socioeconomic context where work is seen as the standard model for our contemporary societies.The Chantier exhibition held at the gallery in 2008 already projected us into the world of work and in the making of the art piece itself, with the piece being the place where one feels the weight of time and work.
For his fifth solo exhibition at the gallery, like a disturbing reference to the Ford Company's slogan "Work Easily, Play Hard", appears this concise and scathing statement: Hard Work. As simple as it is effective, this title does not limit possible interpretations and associations, giving us a perfect illustration of Benjamin Sabatier's modus operandi.

Beyond the nod to rock music, it is the artist's creative process that is questioned. All of the 20 installations and sculptures on display are made from raw materials such as concrete, brick or metal in the form of struts, beer cans and barrels; the manufacturing processes are thus very readable. Here Benjamin Sabatier creates an "aesthetics of labor" as a way of reinvesting reality.

Yet if we look closer, the work that the title suggests seems less attributable to the artist than to the materials themselves, as if the artist's role had been to literally put the raw material to work with simple games of pressure, crushing, spilling... The tool - binding, transforming, distorting - is staged too, in its most simple expression.

Sabatier explores the possible limits, functioning with simple and radical oppositions and by reversing power relationships: between heaviness and lightness, strength and fragility.The Cans series (2012) establishes a link between these apparent paradoxes: the cans become the support of a concrete block; a conflict of material that governs the essence of these works.

Catalogue disponible à partir du 22 mai à la galerie, sur le site internet et en librairie.

Galerie Jerome de Noirmont

Benjamin Sabatier was born in 1977 in Le Mans, France. He lives and works in Paris.