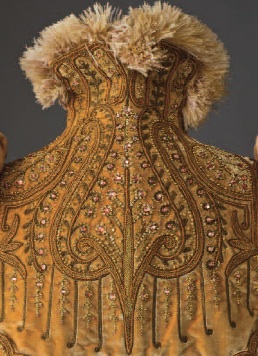 GERMANY / BERLIN: FASHIONING FASHION: EUROPEAN DRESS IN DETAIL, 1700-1915
until Sunday July 29 2012
Open daily 10 a.m. – 6 p.m.
German Historical Museum
T : +49 (0)30 20304 444
Unter den Linden 2
10117 Berlin
Germany
With "Fashioning fashion: European Dress in Detail, 1700-1915" the German Historical Museum is presenting – exclusively in Germany – a unique collection of historical garments and accessories from the Los Angeles County Museum of Art.
The exhibition takes the visitors through four chapters focusing on the aesthetic and technical developments of fashion history:
"Timeline" shows in chronological sequence the changes in the silhouette of women's dresses and the evolution of men's suits from brightly coloured to their traditional dark hue.
"Textiles" informs about the variety of surfaces that come about through complex weaving, colouring and printing techniques.
"Tailoring" deals with the process of turning plain material into clothing, with special emphasis on forming, bracing and constricting techniques.
"Trim" presents the finery of fashionable clothes: delicate laces, magnificent fine-wire embroidery, artful silk trimmings and colourfully patterned and sequined accessories.

Bob Verheist is the artistic director of the exhibition.