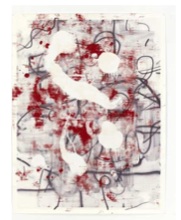 FRANCE / PARIS: CHRISTOPHER WOOL
until Sunday August 19 2012
Musée d'Art Moderne de la Ville de Paris
11, avenue du Président Wilson
75116 Paris
France
T : +33 (0)1 53 67 40 00
www.mam.paris.fr

The Musée d'Art moderne de la Ville de Paris presents the first exhibition in Paris by Christopher Wool, a major figure in the international art scene and one of the most influential contemporary American painters.
For over 30 years, Christopher Wool has been exploring the complexities of abstract painting by constantly questioning the medium with ever fresh means: the use of repetition, of methods from conceptual and minimal art, the adaptation of photographic images, and working with such different techniques as spray-paint, silkscreen and digital reproduction. The exhibition, which was designed in close collaboration with the artist, focuses on more than thirty large-format works painted between 2000 and 2011.

Christopher Wool, who was born in Chicago in 1955, emerged onto the New York scene during the mid-1980's. His recent paintings selected for this exhibition combine silkscreen printing techniques with hand-painted passages. Between improvisation and composition, these paintings in different media expose a hard-earned freedom.