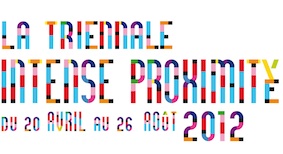 FRANCE / PARIS: LA TRIENNALE, "INTENSE PROXIMITY"
until Sunday August 26 2012
Palais de Tokyo
13 avenue du Président Wilson
750016 Paris
France
public@latriennale.org
www.latriennale.org

Through the concept of "Intense Proximity", La Triennale investigates what it means to be active as an artist working today, in the context of a globalized and diverse French art scene.
The first major event marking the reopening of the Palais de Tokyo in 2012, La Triennale will offer a large panorama of contemporary art at the intersection of the French art scene and global sites of production. Beginning within the interiors of the expanded and refurbished Palais de Tokyo, La Triennale is set in a series of overlapping cartographies that shift from small-scale collaborations with emerging research, production, exhibition, and performance spaces in Paris and the surrounding suburb, to explorations of the critical valences between the near and far, between the edges of France and countries adjacent to and bordering them.

Artistic Director: Okwui Enwezor
Associate Curators : Mélanie Bouteloup, Abdellah Karroum, Émilie Renard et Claire Staebler.