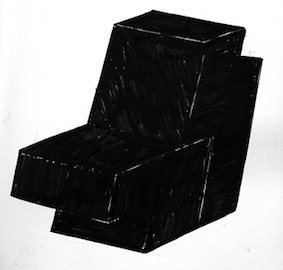 ITALY / ROME: SCOTT BURTON BY OSCAR TUAZON
until Saturday July 21 2012
Fondazione Giuliani
Via Gustavo Bianchi 1
00153 Rome
Italy
T : +39 06 57 30 10 91
info@fondazionegiuliani.org
www.fondazionegiuliani.org

"The base, or pedestal, is a specialized form of table."
Scott Burton
"I called the show "Scott Burton" because I had to put a name on how I feel. Probably it would have made more sense to take the title from Bea Schlingelhoff, and call it "Fuck The Participant", a pun that would have described more accurately the dual nature of Burton's work, subtly perverse, antagonistic, sexy. There's a great self-portrait of Burton, posing in Afro wig and white face, wearing overalls and an enormous dildo, that could very well be subtitled Fuck the Participant.

I guess I tried to become Scott Burton. I don't know how other people do it, but that's how I do it. Which was strange. A demon came into my head. (...)"

Oscar Tuazon

With Scott Burton, Beau Dick, Peter Fend, Jackie Ferrara, Martino Gamper, Bruce Goff, Elias Hansen, Bea Schlingelhoff, Oscar Tuazon.