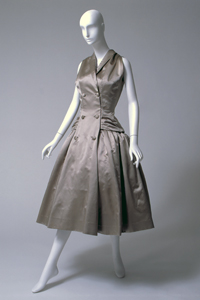 UNITED STATES / NEW YORK: "A QUEER HISTORY OF FASHION-FROM THE CLOSET TO THE CATWALK"
until Saturday January 04 2014
The Museum at the Fashion Institute of Technology
T : +1 (212) 217 5970
7th Avenue at 27th Street
10001 New York
United States
A Queer History of Fashion: From the Closet to the Catwalk features approximately 100 ensembles, from 18th-century menswear styles associated with an emerging gay subculture to 21st-century high fashion.
From Cristobal Balenciaga and Christian Dior to Yves Saint Laurent and Alexander McQueen, many of the greatest fashion designers of the past century have been gay. Organized in roughly chronological order, the exhibition explores the history of modern fashion through the lens of gay and lesbian life and culture, addressing subjects including androgyny, dandyism, idealizing and transgressive aesthetic styles, and the influence of subcultural and street styles, including drag, leather, and uniforms.

The exhibition will trace how the gay vernacular styles changed after Stonewall, becoming increasingly "butch." Lesbian style also evolved, moving from the "butch-femme" paradigm toward an androgynous, anti-fashion look, which was, in turn, followed by various diversified styles that often referenced subcultures like punk.