Digital editions and covers
VIEW ECATALOG
Cover and Dividers : Ellen von Unwerth
Jewellery: Joshua Kane (Cover: Rose Gold Shear Necklace)
Model: Jordan Ebbitt
Hair & Make-Up: Paul Donovan @CLM
© Ellen von Unwerth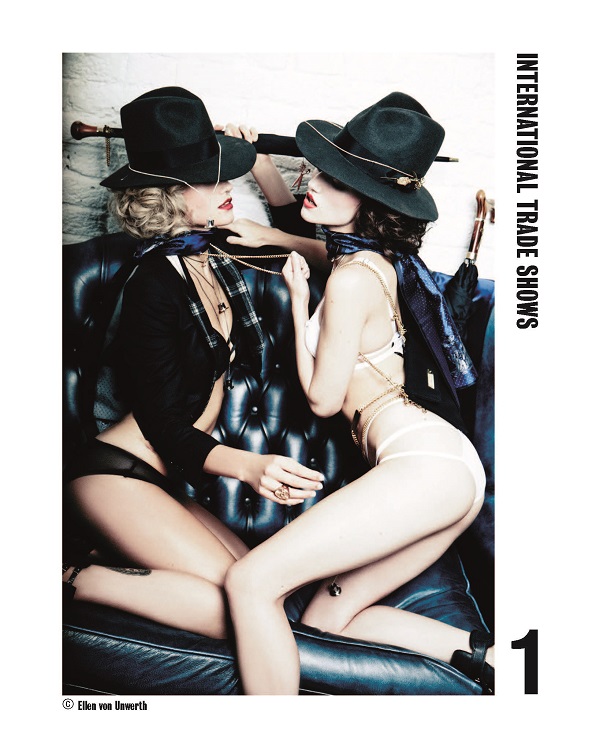 VIEW DIVIDERS
---
Modem Accessories Fall-Winter 2015-2016
Cover by Ellen von Unwerth
German-born and Paris-based photographer and director Ellen von Unwerth has firmly established herself as a fashion photographer since the mid-1980s, and is reputed for her erotic take on imagery,
as well as for her playful mise-en-scène.

In addition to her career as a fashion photographer, filmmaker and video director, her work has been collected in numerous books and photo-novellas. Von Unwerth's first book, 'Snaps', was published in 1994 followed by 'Wicked' (1998), 'Couples' (1999) and 'Omahyra & Boyd' (2005).

Her photo-novella 'Revenge' was published in 2003, and accompanied by exhibitions in New York, Paris, Amsterdam, Hamburg and Moscow. A few years later, in 2009, her reputed 'Fräulein' book was published by Taschen, and accompanied by a range of exhibitions in New York, London, Paris and Berlin. In addition, Ellen von Unwerth published the photo-novella 'The story of Olga' in 2012, as a collector's item with Taschen publishing house.
Over the years, her photographs have been exhibited worldwide, including in 'Archaeology of Elegance (2012), Fashioning Fiction', exhibited at MoMA/Queens in 2004; and 'The Model as Muse', exhibited at The Metropolitan Museum of Art (2009). In addition, her short-films won prizes at the Lajolla Festival, and at the ASVOFF Festival, among others.

Von Unwerth, who is also a former fashion model, made a name for herself by bringing a first-hand knowledge of the kinetic energy of fashion photo-shoots to the creation of her own photographs, short-films, and video clips. In this sense, her campaigns have a distinctive sensual and playful touch, such as the ones she did for Guess? in the early 1990s, which launched her commercial career, and lead her to work with internationally reputed luxury brands and designers, such as Azzedine Alaïa, Chanel, Dior, Kenzo, Lacoste and Miu Miu, among many others, next to further shootings for reputed lingerie brands, such as Agent Provocateur, Chantal Thomas, and Victoria's Secret.

As of today, Ellen von Unwerth won several photography prizes — including the 'Fashion layout of the year' prize (2012) at the LUCIE Awards, one of the worlds most prestigious photography awards — and is exhibiting her work successfully all over the world, while working with an ever-growing celebrity list, including some of the biggest names in the fashion, art, music and design industries. In addition, she was named honorary member of the Art Directors Club Germany in 2008. In 2012, she was also included in 'All-TIME 100 Fashion Icons', a list of the 100 most influential fashion icons compiled by the TIME magazine.

The cover and the divider images of this edition are paying a tribute to Ellen von Unwerth's unique take on contemporary fashion photography, and depicting her collaboration with Joshua Kane,
a London-based independent designer.

More information on www.2bmanagement.com/ellen-von-unwerth/ and www.joshuakanebespoke.com.