Digital editions and covers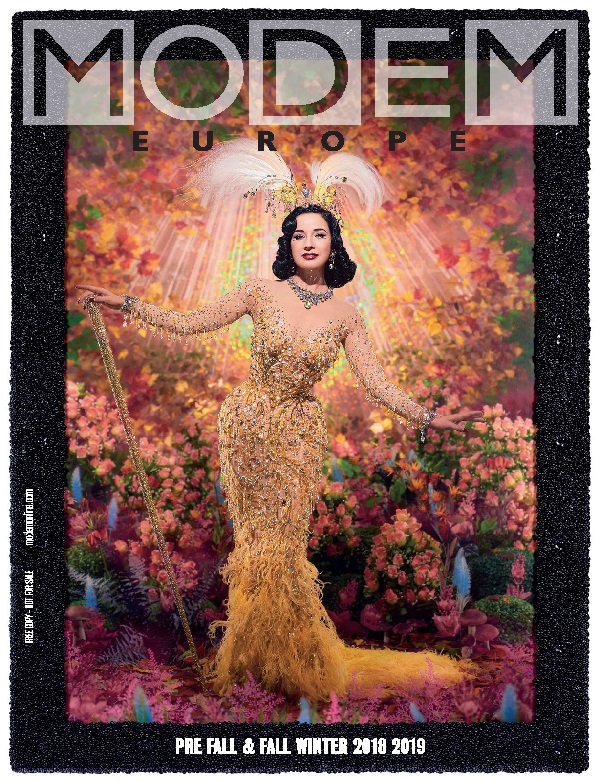 VIEW ECATALOG
EDITION DEDICATED TO PIERRE et GILLES
COVER AND DIVIDERS : "LE TEMPS IMAGINAIRE"
Ink-jet photograph printed on canvas and painted, uniques pieces
COVER : 'CHANSON D'AUTOMNE (DITA VON TEESE)', 2017
(186,5 x 134 cm)
©Pierre et Gilles
Courtesy of the Artists and Galerie Templon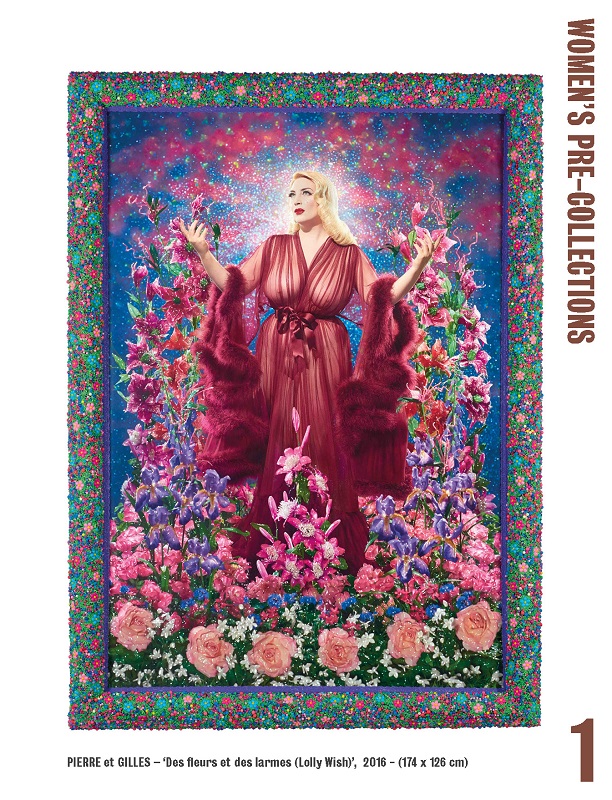 VIEW DIVIDERS
---
Modem Europe Fall-Winter 2018-2019
Cover by Pierre et Gilles
For this edition, which is dedicated to the Fall/Winter 2018-19 season, Modem is giving "carte blanche" to Pierre et Gilles the couple of French visual artists formed by the photographer Pierre Commoy, born in 1950 and the painter Gilles Blanchard, born in 1953.

They have been producing works together since 1976, creating a world where painting and photography meet. Their art is peopled by their friends, anonymous and famous, who appear in sophisticated life-size sets the artists build in their studio.

Pierre et Gilles' works lie on the borderline between art history and vernacular imagery, photography and painting where they play with traditional categories. In their studio the artists put together scenes centring on illusions, making complex use of light and composition. This initial stage is followed by the meticulous application of paint directly on the photograph transferred to canvas, whose original frame is designed as an extension.

"In Pierre & Gilles' world, nothing is unambiguous. There is no one truth, but limitless possible truths," says Sophie Duplaix, chief curator of the Centre Pompidou collections who considers the artists as the "enlightened guardians of universal values that neither ethical considerations nor political discriminations can hamper."

Internationally renowned artists, they have been building up an extraordinary iconography since 1976. Their work has been recognised by numerous Museum exhibitions, including a retrospective at the Maison Européenne de la Photographie in Paris in 1996, New Museum of Contemporary Art in New York in 2000, Shanghai Museum of Contemporary Art in 2005 and Jeu de Paume in Paris in 2007. In 2017, their retrospective "Clair-Obscur", at the Brussels Musée d'Ixelles then Muma in Le Havre, met with
spectacular public and critical success.

'Le temps imaginaire', their last exhibition, presented by the Galerie Templon,
30 rue Beaubourg - in Paris until March 10, 2018 is an ode to tolerance and freedom.