Digital editions and covers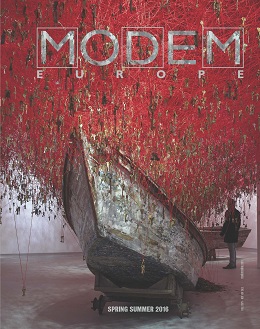 VIEW ECATALOG
56TH INTERNATIONAL ART EXHIBITION - LA BIENNALE DI VENEZIA 2015
Cover: Installation image of the Key in the Hand, 2015
for THE JAPAN PAVILION AT THE GIARDINI
Artist: CHIHARU SHIOTA - Curator: HITOSHI NAKANO
Photo by Sunhi Mang, Courtesy of Chiharu Shiota ©
Dividers: A picture selection of 9 National Pavilions exhibited at the 56th International Art Exhibition in Venice until November 22nd, 2015.

VIEW DIVIDERS
---
Modem Europe Spring-Summer 2016
Cover by La Biennale di Venezia 2015
For this MODEM Europe 2015 edition, we gave "carte blanche" to La Biennale di Venezia 2015, by picturing a selection of 10 National Pavilions exhibited at the 56th International Art Exhibition in Venice until November 22nd, 2015.

The Biennale chose the Nigerian art critic Okwui Enwezor as a curator, who initiated this edition's theme 'All the World's Futures' — a theme which is devoted to a fresh appraisal of the relationship of art and artists to the current state of the world.

In fact, Enwezor has developed the 56th International Art Exhibition as a stage where historical and counter-historical projects are explored. Within this
framework, the main aspect of the 56th Exhibition is to solicit invited artists, filmmakers, choreographers, performers, composers, and writers, to work
either individually or in collaboration. The sections that define 'All the World's Futures' are 'Liveness: On Epic Duration', a program of events that can be experienced at the intersection of liveness and display; 'Garden of Disorder', a project that links past and present through the metaphor of the garden;
and 'Capital: A Live Reading', a program of live-readings around Karl Marx's 'Capital: Critique of Political Economy'.

Finally, the numbers of the Biennale reveal a very promising edition: 136 artists have been summoned, of which 88 for the first time. They come from 53 countries, and many of them from geographical areas that Enwezor "paradoxically insist on defining as peripheral". Of works on display, 159 are expressly realized for this year's edition. According to the curator, "all of this will help to uncover the last tendencies regarding the geography and routes taken by contemporary art, thanks to a special project focusing on the Curricula of the artists operating around the world".

The 10 National Pavilions highlighted in this edition — The United States Pavilion curated by Ute Meta Bauer, The British Pavilion curated by Richard Riley, The Italian Pavilion curated by Vincenzo Trione, The Belgian Pavilion curated by Katerina Gregos, The Swiss Pavilion curated by Susanne Pfeffer, The French Pavilion curated by Emma Lavigne, The Australian Pavilion curated by Linda Michael, The German Pavilion curated by Florian Ebner, The Japanese Pavilion curated by Hitoshi Nakano, and The Dutch Pavilion curated by Colin Huizing and Cees de Boer — go hand in hand with Enwezor's vision for this year's International Art Exhibition in Venice.

More information on www.labiennale.org .