Digital editions and covers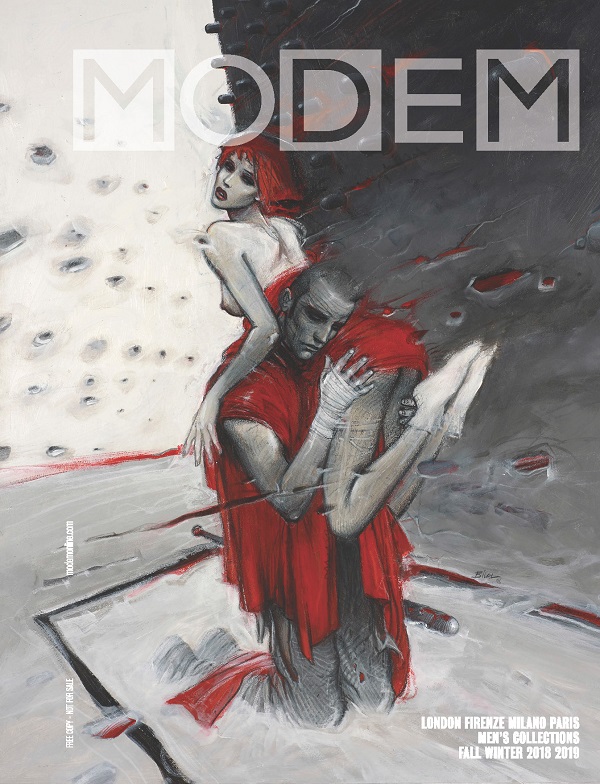 VIEW ECATALOG
EDITION DEDICATED TO ENKI BILAL
COVER AND DIVIDERS : Courtesy of the Artist.
COVER : 'Roméo et Juliette', 1990 - (58 x 45 cm)
© Enki Bilal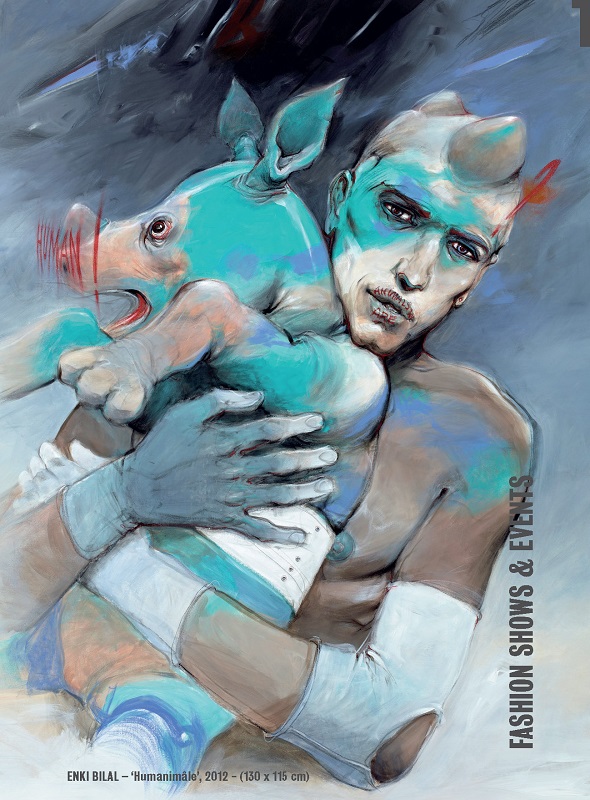 VIEW DIVIDERS
---
Modem Men's Firenze Milano Paris Fall-Winter 2018-2019
Cover by Enki Bilal
For this edition, which is dedicated to the Men's Fall/Winter 2018-19 season, Modem is giving "carte blanche" to Enki Bilal, born on 1951 in Belgrade in the Socialist Federal Republic of Yugoslavia. His father was a master tailor and personally looked after Tito's wardrobe. His childhood in Tito's Yugoslavia and his exile in France fed the captivating world of his albums.

- Comic book creator, painter, filmmaker : he is a daring artist who, above all, follows his formidable instinct and has gradually freed himself from the constraints inherent to his job as a comic book author; he looks and listens attentively to what is happening around him, synthesizes and transcribes the convulsions that jostle the present and the historical fractures that flow from it.

With "Bug" (his last book), we are confronted with a technological upheaval, whose repercussions are just as devastating, given George Orwell's dependence, to which the contemporary world has submitted with an almost blameworthy passivity. This extremely brutal dysfunction, which interrupts all connections,
erases memories and plunges society into the most absolute chaos, is a very beautiful fable in the form of a warning. It is perhaps even individual freedom, threatened by digital fundamentalism, which finds itself at the center of this maelstrom.

Enki Bilal takes up themes that are dear to him and that have been pursuing him for many years: memory, identity, alienation. "Alcide Nikipol, Jill Bioskop'' - who would be here deprived of his script walker or ''Nike Hatzfeld'' are so many shadows hovering over each page; their questions, their hopes or their emotions are prolonged in this album.

But he does not try to predict the future, he wonders about the changes in progress. What matters now is before our eyes; the changeover of the real is his first concern. It is a witness of his century that, in "The Sleep of the Monster", the day after the outbreak of his country of origin, is constantly saying to his hero: "I remember. Hence the importance, in his work, of memory, which conditions the present, without which it would be denatured and subjected to the enslavement of obscurantist forces "-.

- Excerpt from Xavier Truel's text

In 1987, Bilal won the Grand Prix at the 14th Angoulême International Comics Festival. In his career Bilal
collaborates with directors Alain Resnais and Jean-Jacques Annaud. He draws sets and costumes for opera and dance. His works have also been exhibited at the Louvre Museum in 2012, at the Paris Museum of Arts and Crafts in 2013, at the Venice Biennale in 2015 and in 2016 at the Chanel Nexus Hall de Tokio, which Chanel has dedicated to him.