Digital editions and covers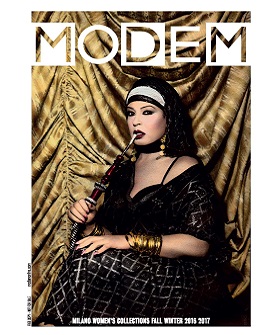 VIEW ECATALOG
COVER AND DIVIDERS: YOUSSEF NABIL

COVER: Fifi with a sisha, Cairo 2000
Hand Colored Gelatin Silver Print
Courtesy of the artist and Galerie Nathalie Obadia,Paris/Brussels.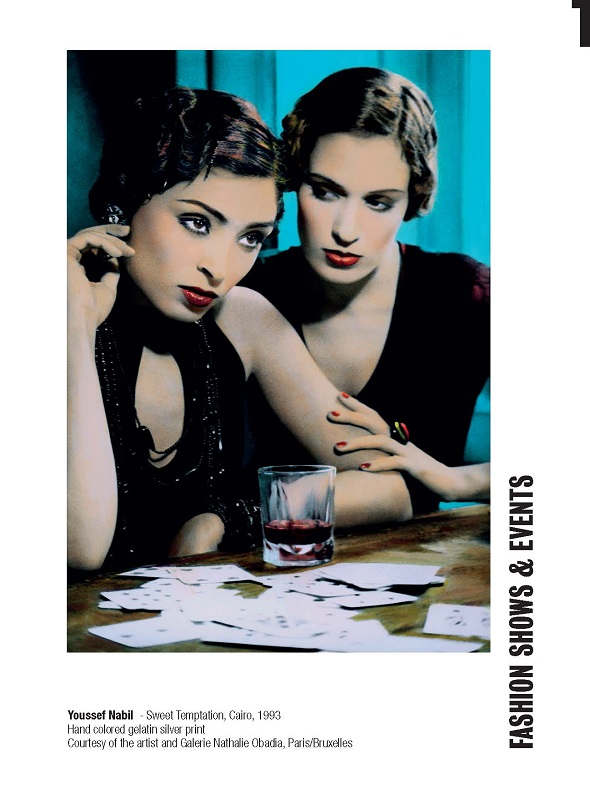 VIEW DIVIDERS
---
Modem Women's Milano Fall-Winter 2016-2017
Cover by Youssef Nabil
For this edition of Modem, which is dedicated to the Women's Fall Winter 2016/17 season, we gave "carte blanche" to Youssef Nabil, artist photographer, born in 1972 in Cairo, Egypt. The artist lives and works in New York.

Youssef Nabil observes his life as if he were in a cinema, watching and witnessing every minute of his own movie. Nabil began his photography career in 1992 by staging tableaux in which his friends acted out melodramas recalling film stills from the golden age of Egyptian cinema. Later in the 1990s, while working as a photographers' assistant in prominent studios in New York (David Lachapelle) and Paris (Mario Testino), he began photographing artists and friends, producing both formal portraits as well as placing his subjects in the realms of dreams and sleep, on the edge of consciousness and far from their public personas.

Nabil's distinctive technique of hand-colouring silver gelatin photographs removes the blemishes of reality and recalls the heyday of Egyptian film. Nabil disrupts prevalent notions of colour photography and painting, as well as assumptions about the type of aesthetics associated with art and those identified with popular culture. His particular medium evokes a sense of longing and nostalgia and allows his photographs to flicker between our time and another era.

In 2010 Youssef Nabil exhibited his first film "You Never Left", an 8 minute piece with actors Fanny Ardant and Tahar Rahim.
His second film "I Saved My Belly Dancer" 12 minute, with actors Salma Hayek and Tahar Rahim was exhibited at Nathalie Obadia Gallery in Paris in November 2015. Working with films represents a major turning point in the career of the artist whose entire body of work has been inspired by cinema.

Youssef Nabil's work has been presented on numerous solo and group exhibitions at venues including the British Museum, London; Centro de la Imagen, Mexico City; North Carolina Museum of Art, North Carolina; BALTIC Centre for Contemporary Art, Newcastle; Museum of Photography; Thessaloniki, Mathaf Arab Museum of Modern Art; Doha, Victoria and Albert Museum, London; La Maison Rouge, Paris; Michael Stevenson Gallery, Cape Town; The Los Angeles County Museum of Art, LACMA, LA; SCAD Museum of Art, Savannah, Georgia; Galleria dell'Accademia, Florence; Nathalie Obadia Gallery, Paris; Galeria Leme, São Paulo; Centre de Cultura Contemporánea de Barcelona; Institut du Monde Arabe, Paris; Savannah College of Art and Design, Savannah;
Kunstmuseum, Bonn; The Third Line Gallery, Dubai; Galerist, Istanbul; Centro Andaluz de Arte Contemporáneo, Sevilla; Aperture Foundation, New York and La Maison Européenne de la Photographie in Paris.

Three monographs have been published on Nabil's work: Sleep in My Arms (Autograph ABP and Michael Stevenson, 2007), I Won't Let You Die (Hatje Cantz, 2008) and Youssef Nabil (Flammarion, 2013)

Youssef Nabil is represented by Nathalie Obadia Gallery Paris / Brussels.