Digital editions and covers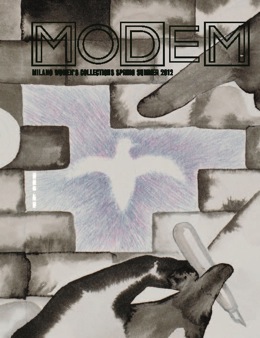 VIEW ECATALOG
Cover and Dividers: Francesco Clemente
"The Tarots", 2009 - 2011
Cover image: Detail of the "King of Swords"
Ink and colored pencil on paper, 2009 - 2011
© Hirmer Pubishers
www.francescoclemente.net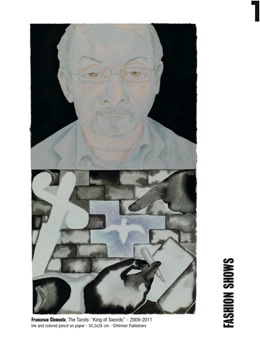 VIEW DIVIDERS
---
Modem Women's Milano Spring-Summer 2012
Cover by Francesco Clemente
Per la copertina di questa edizione di Modem abbiamo dato "carta bianca" all'artista Francesco Clemente, nato a Napoli nel 1952, membro della
American Academy of Arts and Letters.
Attraverso quattro decadi e sempre con lo stesso approccio poetico, l'attività artistica di Francesco Clemente esplora le ambivalenze, le opportunità,
le gioie e dolori, i desideri di ogni singola esistenza umana.

Negli anni '70 l'artista ha realizzato opere nelle quali è evidente l'interesse per le tradizioni contemplative dell'India, paese dove ha vissuto per diversi anni.
Nel 1981 si trasferisce a New York con la moglie Alba e i quattro figli. Negli anni '80 espone in prestigiosi musei, tra cui la Whitechapel (Londra), l'Art Institute (Chicago), la Nationalgalerie (Berlino), il Metropolitan Museum e il Dia Center (New York). Negli anni '90 al Philadelphia Museum of Art, alla Royal Academy (Londra), al Centre Pompidou (Parigi) e al Sezon Museum (Tokyo). Nel 1999 e nel 2000 i musei Guggenheim di New York e di Bilbao organizzano la più importante retrospettiva dedicata ai suoi lavori. Nel 2004 espone al Rose Art Museum del Massachusetts e all'Irish Museum di Dublino; nel 2006 al Maxxi di Roma e nel 2009 al Museo MADRE di Napoli.

Nel corso della sua carriera collabora con altri artisti, dipingendo con Jean-Michel Basquiat e Andy Warhol, e illustrando le poesie di Robert Creeley,
Allen Ginsberg, John Wieners e Rene Ricard.

Nel 2011 espone al Schirn Kunsthalle di Francoforte ed in settembre alle Gallerie degli Uffizi di Firenze, in cui presenta le 78 interpretazioni dei Tarocchi, i cui arcani maggiori sono riprodotti sugli intercalari di Modem di Milano e Parigi.

Queste carte realizzate tra Napoli, New York, Madras e Taos (New Mexico), costituiscono un viaggio attraverso i luoghi a cui è legato in modo profondo.
Nei suoi arcani, sono raffigurati personaggi del mondo dell'arte, della letteratura, del teatro, del cinema, della moda e del suo vissuto personale:
Allen Ginsberg, Salman Rushdie, Philipp Glass, Scarlett Johansson, Jasper Johns, Diane von Fürstenberg, Max Seidel, Scarlett Johansson, Marisa Monte...

"The Tarot Cards of Francesco Clemente" edizioni Hirmer Verlag, 168 pag.