Digital editions and covers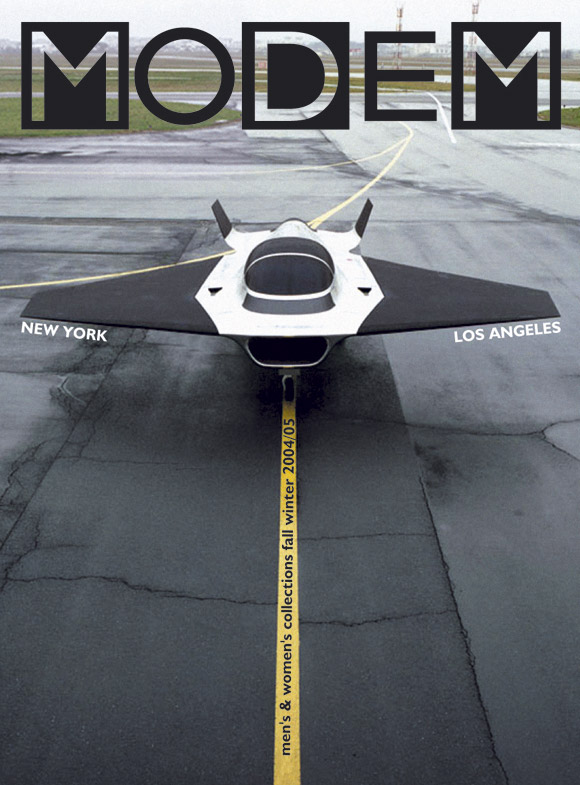 "Kelvin 40"
© Marc Newson
www.marc-newson.com

---
Modem Men's & Women's New York Los Angeles Fall-Winter 2004-2005
Cover by Marc Newson
This season we gave "carte blanche" to Marc Newson, the design ergonomist who was born in 1963 near Sydney - Australia,
a continent before seen in the western world as terra incognita.

"The history of popular Australian culture is an history of people that have to invent everything from nothing, out of necessity" .

This genetic feature leads Marc Newson to realize objects throughout the world - from a spoon to a plane - which enlighten the esthetic originality and the creative function in the manufacturating process of the object.
Kelvin 40 on this cover is a 8 meter long plane entirely conceived by him. This plane - presented at the Fondation Cartier from January 24 to May 2, 2004 - is dedicated to Doc. Chris Kelvin main character
of Solaris the novel by Stanislas Lem.
The creations of Marc Newson are part of most permanent collections of the main national museums such as MOMA in nyc, Design Museum in London, Centre Georges Pompidou in Paris & Vitra Museum in Berlin.