Digital editions and covers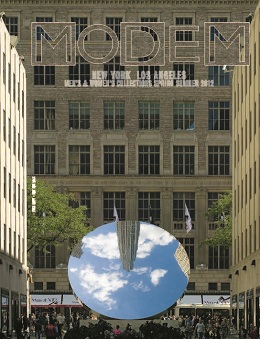 VIEW ECATALOG
Cover : ANISH KAPOOR
"SKY MIRROR": Installation to the Center Rockefeller of New York
© Anish Kapoor
Courtesy the artist and Kamel Mennour, Paris

---
Modem NY&LA Spring Summer 2012
Cover by Anish Kapoor
Anish Kapoor gives this Modem New York – L.A. collection Spring/Summer 2012 cover his stamp.
Born in Bombay in 1954, Anish Kapoor has been living in London since the 1970s.
Anish Kapoor represented Britain at the Venice Biennale, 1990.
He rapidly gained internatonal recognisiton and has been awarded numerous prizes, including the famous Turner Prize, which he won in 1990. In October 2011 he will be awarded the Praemium Imperiale in Tokyo City.
His career has been the subject of many a solo exhibition, including "Monumenta 2011" at the Grand Palais in Paris, and others at the most prestigious museums in the world, such as the Louvre, the Royal Academy and the Guggenheim in both Bilbao and New York.
He was recently commissioned to design the key landmark for the forthcoming 2012 Olympic Games in London: a 116 metre high sculpture entitled "Orbit".
His most recent works are mirror-like pieces, reflecting or distorting the viewer and suroundings. "Sky Mirror", the image used for the Modem Cover, is a six metre wide concave dish of polished stainless steel, weighing ten tonnes and angled up towards the sky. Its surface reflects the ever-changing environment.

Anish Kapoor investigates metaphhysical polarities and has been described as being concerned with 'material and immaterial, weight and weightlessness, place and non-place'. He explores the relationship between the tangible and non-tangible to invoke both a physical and non-physical response from his audience.
The work of Kapoor is collected worldwide, notably by the Museum of Modern Art in New York, the Tate Modern in London, Fondazione Prada in Milan, the Guggenheim in Bilbao, the De Pont Foundation in Tilburg, Netherlands, the 21st Century Museum of Contemporary Art in Kanazawa,Japan,and the Israel Museum in Jerusalem.
Kapoor's gallery representations include the Gladstone Gallery, New York, the Lisson Gallery, London and Galerie Kamel Mennour in Paris.