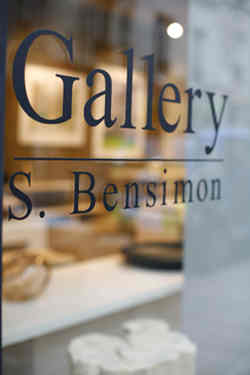 Gallery S. Bensimon
Head Office
111, rue de Turenne
75003 Paris, France
P : +33 (0)1 42 74 50 77
www.gallerybensimon.com/fr
Room devoted to the exhibition of works of art. Following Autour du Monde, Home Autour du Monde and the Artazart bookshop, Serge Bensimon, the home and fashion man, unveils another of his passions.

An accumulator and collector of art and design, he is dedicating a space to meetings, dialogues between creations, a laboratory of ideas for objects, design and contemporary art. The pioneer who imported the concept store to France in the 1980s, imagines his "Gallery" as somewhere which resembles him.

Modern and with surprisingly exclusive and unusual objects, this responsive and well thought-out shop is at the cutting edge of inspiration. No fighting over names, no hunting for impossible objects, nor any boundaries, but rather a range of quality items, a series of emotions, chosen out of curiosity and enthusiasm.

Each quarter, «Gallery» offers a journey into modern creativity and an insight into modern European movements. A sort of dedicated guide to destinations and sensations, whose main principle would be searching for quality of workmanship, materials and design.

The space's architecture is surprising even from the outside.
Serge Bensimon and Stéphane Riolet, the «inhouse» architect, wanted a decidedly modern sanded cedar facade. Large openings punctuate the interior space and flood it with natural light.

A «veduta» over the internal space, the windows invite passers-by to stop and look at the exceptional works. The boards of the cedar ceiling, which create a link with the facade, break up the internal view and invite discovery… Original and modern, the traditional wall designed in responsive materials like lime, straw and quartz, the polished Jura stone floor and grey mineral paint, will host the creations of guest designers.
---
---
---