from May 10 to June 08 2019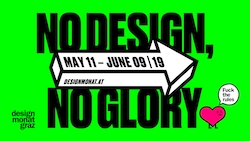 Designmonat Graz 2019
from May 10 to June 08 2019
Various Locations
Graz
---
Design Month Graz provides an insight into various creative disciplines and links distinct design creators together. Events such as exhibitions, workshops or lectures invite you to network in the UNESCO City of Design Graz. In 2019, Design Month Graz will turn the UNESCO City of Design back into an urban design zone. Thanks to the diverse program, design will be reintroduced to the public fore initiating 11 May to 9 June 2019.
In addition to the annual formats such as Design in the City, the CIS-Design Battle and exhibitions in designforum Steiermark along with Hollenegg Castle for Design, the UNESCO City of Design Istanbul 2019 is closely in cooperation, and a loyal partner of Creative Industries Styria, subsequently within the framework of the two program points of Design Month Graz, it is possible to get acquainted with the design landscape of Graz as well as the design landscape of Istanbul. One important addition to this event consists of a fixed program called the Designfestival assembly, which concentrates on fashion design.
Design Month Graz 2019 focuses its program on the topic "Women & Design".
---
office@cis.at
P : +43 (0) 316 890 598
www.designmonat.at/en/
---
press release
---