Copenhagen Architecture Festival (Cancelled)
from April 23 to May 03 2020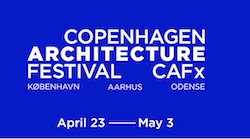 Copenhagen Architecture Festival (Cancelled)
from April 23 to May 03 2020
Vestergade 12
1456 Copenhagen
---
From 23 April to 3 May 2020, the world's largest architecture festival embraces 3 cities, around 40 venues, 150 events, over 10 days, and thousands of visitors.
Since 2016
Copenhagen Architecture Festival x FILM (CAFx)
has spread further than the capital city of Denmark—onto
Aarhus and Aalborg
. Three host cities number the total of 42 venues that are able to feature 160 events during 14 days. The festival was founded in 2014 and quickly became a fast-growing event able to double its attendance in the one-year period. By its fourth edition in 2017, it was already the world's largest festival of architecture and film.
---
---
press release
---