from July 01 to July 11 2020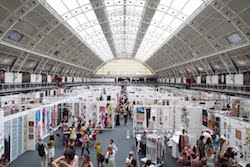 New Designers
from July 01 to July 11 2020
Business Design Centre
52 Upper Street
N1 0QH London
---
Full of disruptive thinking, ambitious ideas and fresh approaches,
New Designers presents the work of 3,000 hand-picked graduate design talents from around the country
.
Taking place at London's Business Design Centre from 1 - 4 & 8 - 11 July 2020
, the show explores every discipline of modern making. Great design shapes the human experience, and new perspectives push us forward. Join
New Designers
for creative exchange, collaboration and to celebrate the future of design.
---
P : +44 (0) 20 7150 5974
www.newdesigners.com/
---
press release
---