Art connections / art galleries / Galerie Claudine Papillon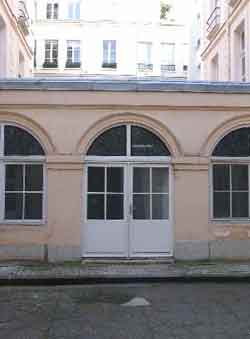 Galerie Claudine Papillon
13, rue Chapon
75003 Paris, France

Thuesday to Saturday from 11 am to 7 pm
T : +33 (0)1 40 29 07 20
claudinepapillon.galerie@orange.fr
www.claudinepapillon.com/

Reputably loyal to their engagements that are never brazen, the Claudine Papillon Gallery maintains a privileged long-term relationship with its artists.

The artists Erik Dietman, Dieter Roth and Hreinn Fridfinnsson, whose work was often considered as marginal in their beginnings, but quickly becomes referential and almost classical for the contemporary art scene, have become emblematic of our gallery.
In 1989, when she opened her own gallery, Claudine Papillon was determined to expose the diversity and wealth of the French contemporary scene. Françoise Vergier who had a solo exhibition at the Georges Pompidou center in 1995, Thierry Mouillé laureate of the Villa Medicis 2007-08, Vassiliki Tsekoura, a Greek artist living in Paris, Frédéric Lecomte, Jean-Claude Ruggirello, and Elsa Sahal, a resident of the national Manufacture of Sèvres since 2007, have integrated our gallery between 1989 and 2000. Patrick Caulfield and Günter Brus, symbolic figures of the artistic scene of the 1970's, joined the gallery in 1993 and 1998 respectively.
Madame Papillon thus continually diversifies her team, welcoming those artists who share her sensibilities, her sense of poetry and humor, her audacity, and occasionally even her sense of anti-conformity.
List of artists gallery
Grégoire Bergeret
Günter Brus
Tony Carter
Patrick Caulfield
Gaëlle Chotard
Erik Dietman
Sammy Engramer
Hreinn Fridfinnsson
Lotta Hannerz
Frédéric Lecomte

Frédérique Loutz
Thierry Mouillé
Javier Perez
François Ribes
Dieter Roth
Jean-Claude Ruggirello
Elsa Sahal
Didier Trenet
Vassiliki Tsekoura
Françoise Vergier

---