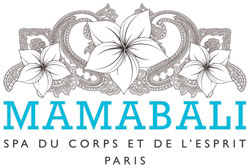 Mamabali
8 rue Guillaume Bertrand
75011 Paris, France

---
P : +33 (0)1 43 71 50
contact@mamabali-spa.com
www.mamabali-spa.com

---
An unique experience, in Paris, a journey towards serenity and harmony. Mamabali is the first Spa dedicated to the body and mind.
Mamabali Spa proposes you a place including:
A spa, dedicated to Bali, island of Gods, which make you travel and discover authentic care of well being, realized with the Mamabali organic products; discover the Leonor Greyl Hair Salon and the Balinese Restaurant where you will find lovely flavors. Mamabali offers you a real Balinese experience of life, hospitality and services. Discover our universe of beauty and relaxation, where everything will become peace and tranquillity.
Take it all in and let the stress melt away.
Mamabali propose for you, an area dedicated to the personal fulfillment where life coach, dietitians listen your needs and give you the best approach to reach you objectives.
---
---