Designer
Jonny Johansson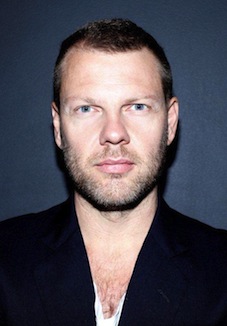 Label
Acne Studios unites innovative jeans styles with a versatile wardrobe for men and women, ranging from basic cotton T-shirts, to tailored jackets to luxurious accessories and shoes. While every collection forms a concept, each piece can be worn separately and effortlessly be mixed with other brands. By designing simple, functional clothes Acne aims to create a modern framework for individuality.

Founded in Stockholm 1996, Acne's ambition was to create and develop their own products as well as helping other people to build their brands. This ambition led to numerous assignments in advertising, graphic design, Internet games and TV production.
As a part of the creative collective ACNE, Acne started in 1997 when the company designed 100 pairs of jeans distributed to friends, family and clients. Soon, several stores and boutiques wanted to carry the line, much to do with the characteristic bright-red stitching on raw denim. From these humble beginnings Acne has developed into a renowned jeans brand.
The first 'real' collection was launched in 1998. Since then Acne Creative Director
Jonny Johansson
has worked with a skilful design team to create a strong identity for the brand.
In 2003 the company opened their first Acne Studios in PK-huset in central Stockholm. The second studio opened in Copenhagen in December the following year. And three more opened in 2005, a second in both Stockholm and Copenhagen, and the first German studio opened in Mitte Berlin.
The label is also represented through more than 450 retailers around the world. Among the well-known stores that carry the collections are Colette in Paris, Selfridges, and Brown's Focus in London, Louis in Antwerp, Quartier 206 in Berlin, Barneys in New York and Lane Crawford in Hong.
In 2000 ACNE STUDIOS received Swedish ELLE's 'Designer of the Year' award. The company won the Café Magazine fashion award in 2003, and received Damernas Värld's design award 'Guldknappen' in 2004. The same year Acne was received ELLE's Denim Designer of the Year award.
Acne Studios is today recognized internationally as a creative collective, unique for its corporate diversity such as fashion design, graphic design, film production and advertising, as well as product, business and concept development.
Mikael Schiller
Executive Chairman


Mattias Magnusson
Chief Executive Officer

Contacts & showrooms
Acne Studios Head Office Showroom
Acne Studios
Lilla Nygatan 23
111 28 Stockholm, Sweden


Acne Studios Paris Showroom
Showroom contact
Head of Paris Division
39, rue Sainte Croix de la Bretonnerie
75004 Paris

Acne Studios Copenhagen Showroom
Showroom contact
Sales Contact
CHR IX's gade 1, 3 TV
1111 Copenhagen, Denmark


Acne studios Oslo Showroom
Country Manager
Øvre Slottsgate 11
0157 Oslo, Norway


Acne Studios NYC Showroom
Showroom contact
Sales Department USA & Canada
545 West 25th Street - 8th Floor
10001 New York, United States


Press contacts
Acne Studios
Press Contact / Sweden Office
Lilla Nygatan 23
111 28 Stockholm, Sweden


Acne Studios Paris Showroom
Press & Communication (France, Japan, Italy, Belgium, Eastern Europe, Southern Europe, Russia, Asia)
39, rue Sainte Croix de la Bretonnerie
75004 Paris

Acne Studios Copenhagen Showroom
Press Contact / Germany, Denmark, Austria, Switzerland, Holland Office
CHR IX's gade 1, 3 TV
1111 Copenhagen, Denmark


Acne Studios Oslo Showroom
Press Contact / Norway Office
Øvre Slottsgate 11
0157 Oslo, Norway


Press offices
PR Consulting
304 Hudson Street, 7th Fl
NY 10013 New York, United States


The Communications Store
2 Kensington Square
W8 5EP London, United Kingdom


Boutiques
Boutiques Acne Studios
Antwerpen
Acne Studios
Lombardenvest 42
Antwerpen
Belgium
T : +32 3 22 505 22
Copenhagen
Acne Studios
Pilestraede 40A
Copenhagen
Denmark
T : +45 33 93 00 90
London
Acne Studios
13 Dover Street
W1S 4LN London
United Kingdom
T : +44 (0)207 629 9374
London
Acne Studios
93 pelham street
SW7 2NJ London
England
T : +44 2079385017
New York
Acne Studios
33 Greene St
10013 New York
United States
T : +1 212 33 48 345
Oslo
Acne Studios
Grønnegata 1
0350 Oslo
Norway
T : +47 2259 4500
Paris
Acne Studios
3 rue Froissart
75003 Paris
France
T : +33 (0)1 49 96 96 91
F : +
Paris

Acne Studios
124 Galerie Valois
75001 Paris

Stockholm
Acne Studios
Nytorgsgatan 36
116 40 Stockholm
Sweden
T : +46 (0)8 640 04 70
Tokyo
Acne Studios
5-3-20 Minami-Aoyama
Tokyo
Japan
T : +81 36 41 89 923
Stockholm
Acne Studios
Norrmalmstorg 2
111 46 Stockholm
Sweden
T : +46 8 611 64 11
Copenhagen
Acne Studios
Gammel Mønt 10
1117 Copenhagen
Denmark
T : +45 339 393 28
Copenhagen
Acne Studios
Illum - Østergade 52
1001 Copenhagen
Denmark
T : +45 331 826 24
Berlin
Acne Studios
Münzstrasse 23
101 78 Berlin
Germany
T : +49 302 804 48 70
---
Selection of multilabel boutiques
Milan

Antonia
via Ponte Vetero, 1
20121 Milan
Italy

Paris

Galeries Lafayette Haussmann
40, boulevard Haussmann
75009 Paris
France

Paris

Printemps Haussmann
64, boulevard Haussmann
75009 Paris
France

London

Browns
23-27 South Molton street
W1K 5RD London
United Kingdom

London

Liberty
210-200, Regent street
W1B 5AH London
United Kingdom

London

Matches
60-64 Ledbury Road Notting Hill
W11 2AJ London
United Kingdom

Brescia

Penelope
via Gramsci, 16
25122 Brescia
Italy

New York

Jeffrey
449 West - 14th Street
NY 10014 New York
United States

New York

Opening Ceremony N.Y
35 Howard Street
NY 10013 New York
United States

Tokyo

Isetan
3-14-1 Shinjuku-Ku
160-0022 Tokyo
Japan