Designer
Stacey Bendet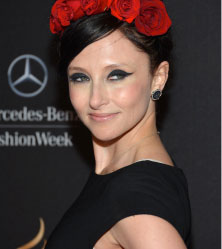 Label
ABOUT ALICE + OLIVIA BY STACEY BENDET: Launched in 2002, alice + olivia by Stacey Bendet is a sophisticated brand with a playful sensibility, which epitomizes the personality and style of its founder, Stacey Bendet.  The brand was born from Stacey's personal quest to create a flattering pair of pants, and has since grown into a full women's ready to wear collection, including outerwear, dresses, and the perfect pants that started it all.  In the spring of 2008, a children's line was introduced which currently offers everything from sweaters to jumpers for little ladies. Stacey has also expanded into different categories with a Base Collection for the ultimate layering pieces to the Career Collection for a more modern working woman. In 2011, the alice + olivia by Stacey Bendet shoe line was launched and includes a wide variety of high-fashion yet affordable styles from leather knee-high boots to sparkly Mary Janes. Now a full lifestyle collection, the brand has become a Hollywood favorite with fans including Gwyneth Paltrow, Fergie, Anne Hathaway, Jennifer Lopez, Blake Lively, and Taylor Swift.  alice + olivia by Stacey Bendet is available at the brand's eight free-standing boutiques in New York (Bryant Park, Madison Ave., Manhasset, and Southampton), California (Los Angeles, Malibu + San Francisco), Connecticut (Greenwich), aliceandolivia.com and at over 800 select department and specialty stores worldwide, including Saks Fifth Avenue, Neiman Marcus, Barney's, Bergdorf Goodman, Isetan (Fall 2012), Lane Crawford, Harvey Nichols and Harrods, as well as prominent web retailers including Net-a-Porter and Shopbop.

Fashion shows & sales campaign
Presentations
New York men's & women's fall-winter 13 / 14
Monday February 11 2013 from 5.00pm to 7.00pm

alice + olivia
New York, United States


Sales campaign
women's pre-collections fall-winter 13 / 14
from Saturday January 19 2013 to Monday January 28 2013

New York fall-winter 13 / 14
from Tuesday February 12 2013 to Friday February 22 2013

alice + olivia
450 West 14th Street, 11th Floor (Cross Washington St).
New York , United States
+ Fashion Coterie NYC (Feb. 24 to 26)
Ashley Shaw
ashley@aliceandolivia.com
T : +1 (646) 747 1441
F : +1 (212) 918 7966
Milan women's fall-winter 13 / 14
from Saturday February 23 2013 to Thursday February 28 2013

Paris women's fall-winter 13 / 14
from Saturday March 02 2013 to Thursday March 07 2013

alice + olivia
3, place des Vosges
75004 Paris , France
Only by appointment
Camille Hassoun
internationalsales@aliceandolivia.com
M : +39 345 1109 589
T : +39 02 87 36 66 00
F : +39 02 44 38 62 59
Press days
New York fall-winter 13 / 14
Thursday March 21 2013

alice + olivia by Stacey Bendet
450 west 14th street
NY New York , United States
By Appointment ONLY
Saba Ebrahimi - Senior PR Director :
saba@aliceandolivia.com
T : +1 646 545 3528
Contacts & showrooms
alice + olivia by Stacey Bendet Showroom
Showroom contact
Office Manager
corso Venezia 35 - 4th floor
20121 Milan, Italy


alice + olivia by Stacey Bendet
Showroom contact
Sales Executive


Alice + olivia by Stacey Bendet
Marketing - communication
Contact Information


alice + olivia by Stacey Bendet
Showroom contact
Senior Sales Executive


alice + olivia by Stacey Bendet
Sales Executive


Press contacts
alice + olivia by Stacey Bendet
Press Contact


Boutiques
Boutiques alice + olivia by Stacey Bendet
Greenwich
alice + olivia
335 Greenwich Ave
CT 06830 Greenwich
United States
T : +1 203 826 8540
Los Angeles
alice + olivia
134 S. Robertson Boulevard
CA 90048 Los Angeles
United States
T : +1 (310) 247 0120
Malibu
alice + olivia
3939 Cross Creek Road
CA 90265 Malibu
United States
T : +1 (310) 775 8375
New York
alice + olivia
2042 Northern Blvd - Manhasset
NY 11031 New York
United States
T : +1 516 472 26 87
New York
alice + olivia
431 w 14th St
NY 10014 New York
United States
T : +1 646 747 12 32
New York
alice + olivia
80 W 40th St
NY 10018 New York
United States
T : +1 (212) 840 0887
New York
alice + olivia
58 Jobs Lane Southampton
NY 11968 New York
United States
T : +1 (631) 204 0164
New York
alice + olivia
755 Madison Ave
NY 10065 New York
United States
T : +1 646 545 28 95
San Francisco
alice + olivia
2259 Fillmore Street
CA 94115 San Francisco
United States
T : +1 415 813 28 05
---
Selection of multilabel boutiques
Hong Kong

Lane Crawford
Time square, 1 Matheson Street, Canseway Bay
Hong Kong
China

London

Harvey Nichols
109 – 125 Knightsbridge
SW1X 7RJ London
United Kingdom

Moscow

Tsum
2, Petrovka Street
103779 Moscow
Russia