Label
Childhood friends Barbara Boccara and Sharon Krief have always been passionate about fashion, travel and encounters of all kinds.
It was only natural to transform their complementary vision into their own brand: ba&sh.
Since its launch in 2003, the line has evolved around the concept of the "ideal wardrobe": every-day-pieces made of sumptuous fabrics, with the right balance between femininity and sophisticated cuts.
Their creations reflect their sensibility: desirable dresses and jumpsuits, essential t-shirts and knitwear perfectly layering with jeans and pants: a display of various prints, precious materials as cotton veil, cashmere and silk, declined in refined shapes.
Barbara and Sharon work with their feelings and desires: no trend book, but a strong determination and sense
of identity that has established their ready-to-wear and accessories line as a leading, contemporary brand, present in over 400 points of sales throughout the world.
Barbara Boccara & Sharon Krief
Ceo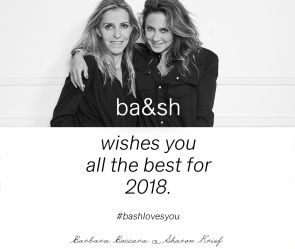 Fashion shows & sales campaign
Sales campaign
Paris women's spring-summer 16
from Wed. July 01 2015 to Friday October 09 2015

Ba&sh
52 rue Des Tournelles
75003 Paris , France
Raquel Araujo - International
raquel@ba-sh.com
Perrine Tazé-bernard - France
perrine@ba-sh.com
T : +33 (0)1 45 08 14 15
women's spring-summer 16
from Monday July 06 2015 to Friday October 09 2015

Ba&sh
Cia de la Moda
C/ Barquillo 10 - 1º Y 3º Izq.
28004 Madrid , Spain
Borja Gomez
borja@ciadelamoda.com
T : +34 913 081 393
Düsseldorf spring-summer 16
from Thursday July 23 2015 to Friday September 11 2015

Ba&sh
MAB Fashion
Kaiserswertherstrasse 200
40474 Düsseldorf , Germany
Regis Benabou
regisbenabou@mab-fashion.com
T : +49 (0)211 43 71 490
women's spring-summer 16
from Monday July 27 2015 to Friday September 11 2015

Ba&sh
Fashion Club 70
54-56 Ijzerlaan
2060 Antwerpen , Belgium
Anoeschka Martens
anoeschka.martens@fashionclub70.be
T : +32 (0)3 221 10 10
Copenhagen spring-summer 16
from Monday July 27 2015 to Friday October 09 2015

women's spring-summer 16
from Monday August 03 2015 to Friday October 09 2015

Ba&sh
Hampson and Buckley P/L
49-51 Stewart St
3121 Melbourne , Australia
Kerry Buckley
kerry@hbfashion.com.au
T : +61 3 9421 0592
Press contacts
Paris women's spring-summer 16

Ba&sh
Jean-Marc Fellous
25 rue du Mail
75002 Paris
Jean-Marc Fellous
press@ba-sh.com
Contacts & showrooms
Showrooms
Showroom Ba&sh
52 rue Des Tournelles
75003 Paris, France


Contacts
Ba&sh
Sales Department
Sales Manager International
Paris, France


Ba&sh
Sales Manager France
Paris, France



Marketing - communication
Marketing et Communication


Multilabel showrooms - Sales territories
Austria Germany

MAB Fashion
Regis Benabou
regisbenabou@mab-fashion.com
T : +49 (0)211 43 71 490
Sales Dpt. Benelux

Fashion Club 70
Anoeschka Martens
Anoeschka.martens@fashionclub70.be
T : +32 (0)3 221 10 10
Press contacts
Ba&sh
Press contact
25, rue du Mail
75002 Paris, France


Boutiques
Boutiques Ba&sh
Paris
Ba&sh
215, rue Saint Honoré
75001 Paris
France
T : +33 (0)1 40 15 09 37
Paris
Ba&sh
22, rue des Francs Bourgeois
75003 Paris
France
T : +33 (0)1 42 78 55 10
Paris
Ba&sh
80, rue des St Peres
75007 Paris
France
T : +33 (0)1 42 22 06 37
Paris
Ba&sh
81, rue St Dominique
75007 Paris
France
T : +33 (0)1 45 51 76 54
Paris
Ba&sh
65, avenue Victor Hugo
75016 Paris
France
T : +33 (0)1 45 00 34 90
Paris
Ba&sh
158, rue de Courcelles
75017 Paris
France
T : +33 (0)1 47 63 19 11
Paris
Ba&sh
1bis, rue des Abbesses
75018 Paris
France
T : +33 (0)1 46 06 20 46
Paris
Ba&sh
83, rue d'Assas
75006 Paris
France
T : +33 (0)1 46 34 74 09
Saint Germain en Laye
Ba&sh
26, rue au Pain
78100 Saint Germain en Laye
France
T : +33 (0)1 49 09 10 06
---
Selection of multilabel boutiques
Beirut

ABC
Dbayeh High Road
Beirut
Lebanon

Copenhagen

Magasin du Nord
Kongens Nytorv, 13
1095 Copenhagen
Denmark

Geneva

Bon Génie
rue du Marché 34
1204 Geneva
Switzerland

Istanbul

Beymen
Istanbul
Turkey

Istanbul

Harvey Nichols
Kisikli cad.No.43, Altunizade
34662 Istanbul
Turkey

London

Liberty
Regent Street
W1B 5AH London
United Kingdom

Madrid

El Corte Ingles
C/ Serrano 70
28001 Madrid
Spain

Milan

Brian & Barry, Milano
via Durini, 28
20122 Milan
Italy

Munich

Loden Frey
Maffeistr. 7-9
80333 Munich
Germany

Paris

Franck et Fils
80, rue Passy
75016 Paris
France

Paris

Le Bon Marché
22-24, rue de Sèvres
75007 Paris
France

Paris

Printemps Haussmann
64, boulevard Haussmann
75009 Paris
France

Stockholm

NK
Regeringsgatan 55
111 77 Stockholm
Sweden

Tokyo

Isetan
Shinjuku
Tokyo
Japan