Label
Childhood friends Barbara Boccara and Sharon Krief have always been passionate about fashion. One day, they decided to transform their vision to create their own brand: ba&sh.
And that's where their adventure begins, sharing their "ideal wardrobe" by designing and sharing the clothes they wanted to wear every day.
Their collections are a mirror of what they are: femininity, happiness, fresh­ness, colorful.
Their creations invite you to travel, with tangy colors that reflect their fee­lings: sweet dresses, jump suits and super feminine leather jackets.
Their spunk helped them establish the creation of their own clothes brand, perfectly achieved by reflecting their image of smart and chic.
They work with their feelings and their desires, no trend book, continually displaying a strong sense of consistency in their collections of prints, pre­cious substances of cotton veil, cashmere and silk declined in refined cuts.
In 2003, Printemps, the bon Marché and Franck&Fils were seduced by their work. Since the opening of their first shop in St-Germain des Prés in 2004, they continue to cultivate their brand and today, ba&sh is reco­gnized and steadily growing, with as many as 450 points of sales globally. ba&sh has become an innovator in fashion while still remaining faithful to their brand's core and identity.
Barbara Boccara & Sharon Krief
CEO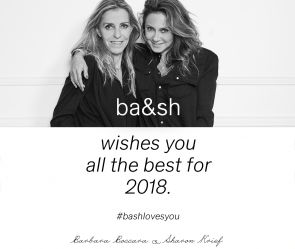 Contacts & showrooms
Showrooms
Ba&sh
25, rue du Mail
75002 Paris, France


Contacts
Ba&sh
Sales Department
Sales Manager International
Paris, France


Ba&sh
Sales Manager France
Paris, France



Marketing - communication
Marketing et Communication


Multilabel showrooms - Sales territories
Sales Dpt. Germany & Austria

Sales Dpt. Benelux

Fashion Club 70
Anoeschka Martens
Anoeschka.martens@fashionclub70.be
T : +32 (0)3 221 10 10
Italy

Elisa Gaito
Francesca Lacopini
sales@elisagaito.com
T : +39 02 54 09 02 01
Press contacts
Ba&sh
Press contact
25, rue du Mail
75002 Paris, France


Boutiques
Boutiques Ba&sh
Paris
Ba&sh
215, rue Saint Honoré
75001 Paris
France
T : +33 (0)1 40 15 09 37
Paris
Ba&sh
22, rue des Francs Bourgeois
75003 Paris
France
T : +33 (0)1 42 78 55 10
Paris
Ba&sh
80, rue des St Peres
75007 Paris
France
T : +33 (0)1 42 22 06 37
Paris
Ba&sh
81, rue St Dominique
75007 Paris
France
T : +33 (0)1 45 51 76 54
Paris
Ba&sh
65, avenue Victor Hugo
75016 Paris
France
T : +33 (0)1 45 00 34 90
Paris
Ba&sh
158, rue de Courcelles
75017 Paris
France
T : +33 (0)1 47 63 19 11
Paris
Ba&sh
1bis, rue des Abbesses
75018 Paris
France
T : +33 (0)1 46 06 20 46
Paris
Ba&sh
83, rue d'Assas
75006 Paris
France
T : +33 (0)1 46 34 74 09
Saint Germain en Laye
Ba&sh
26, rue au Pain
78100 Saint Germain en Laye
France
T : +33 (0)1 49 09 10 06
---
Selection of multilabel boutiques
Paris

Franck et Fils
80, rue Passy
75016 Paris
France

Paris

Le Bon Marché
22-24, rue de Sèvres
75007 Paris
France

Paris

Printemps Haussmann
64, boulevard Haussmann
75009 Paris
France