Designer
Designer Bio/Company Bio:

Born and raised in the San Francisco Bay Area, designer Erin Fetherston graduated from UC Berkeley
before attending Parsons Paris to study fashion design. Since her eponymous label's debut during Paris
haute couture in 2005, Erin's gifted eye and visionary approach to design has made her collections an
instant success with cult-like status amongst the fashion elite. Fetherston serves as the face of her brand
with a strong media presence that has translated to multiple collaborations and television appearances,
creating a compelling and accessible point of view for her brand and projects.

Among her honors, Fetherston was a recipient of the 2007 Ecco Domani Fashion Foundation Award, a
finalist for the 2007 CFDA/Vogue Fashion Fund, and in 2009 was inducted as a member of the
CFDA.

Fetherston debuted her contemporary offering 'ERIN' in 2011, which is enjoying critical acclaim from
retail and press. The collection can be found at Neiman Marcus, Bloomingdale's, Saks Fifth Avenue,
Barneys Japan, Harvey Nichols Hong Kong, and United Arrows.

Company Philosophy:

Femininity + Fantasy + Individuality = Erin by Erin Fetherston
DNA of the brand
COLLECTION:
- Romantic and ethereal aesthetic translated in easy
to wear pieces for the modern woman.
- Inspirational and accessible.
- Feminine, elegant, and playful.
- Clothes that have an authentic voice and
distinctive point of view.
CUSTOMER:
- She loves directional fashion but ultimately wants clothes that will
make her feel beautiful - ERIN by Erin Fetherston offers her both.
- She finds joy in the art of dressing.
- Her style is decidedly feminine and she appreciates seasonless
pieces that fit her modern lifestyle.
Erin Fetherston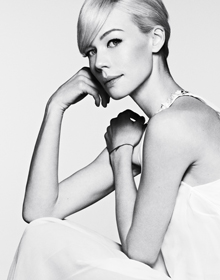 Fashion shows & sales campaign
Sales campaign
New York fall-winter 14 / 15
starts on Saturday February 01 2014

Erin Fetherston
225 West Broadway
NY 10013 New York , United States
+ Coterie
Amy Jubb
amy@erinfetherston.com
T : +1 (212) 643 7537
Contacts & showrooms
Erin Fetherston
President of Sales & Merchandising


Erin Fetherston
Sales & Marketing Coordinator


Multilabel showrooms
Sales Dept. West Coast & Southwest U.S.

Sales Dept. Southeast U.S.

Press contacts
Erin Fetherston
PR & Brand Director


Boutiques
Selection of multilabel boutiques
Dubai

Bloomingdale's
The Dubai Mall Downtown Burj Dubai
Dubai
United Arab Emirates

Hong Kong

Harvey Nichols HongKong
The Landmark - 15, Queen's Road Central
Hong Kong
China

Houston

Tootsie's
2601 Westheimer
TC 77098 Houston
United States

Salmiya

Al Othman & Tabiat Fashion Co
Maryam complex, Salem Al-Mubarak st
Salmiya
Kuwait