Designer
Anton Jones, at the origin of the New York brand Anton Leather, provides a rare know-how to the work of the leather, especially exotic skins. Until today, Laureen Hill, Lenny Kravitz, Usher, Mick Jagger or Halle Barry were the only privileged ones to benefit from Anton's stunning talent... but from now on, Anton wishes to address the general public.

So, with Mel, his partner, he chose House of Skins and Paris, to launch an amazing collection of explosive jackets. Their skills, their passion, and the accuracy of their work make of every model a unique work of art.
The choice of exotic skins such as alligator or python reveals a genuine signature for these leather artisans. Crocodile, ostrich or lizard in a vast range of colors... Once touched by the hands of these artists, the simplest products become absolute pieces of exception.
These designers also developed exclusively for House of Skins a line of customized products and accessories that will add a tinge of originality to your wardrobe.
This duo, made of various inspirations, intends to seduce france and more widely Europe, by introducing a collection of jackets with character that, not doubt, will meet and satisfy anyone's desire.
Anton Jones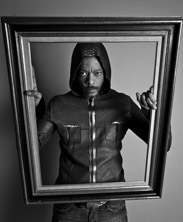 Label
The brand House of Skins in one of a kind, welcome to a concept of outstanding originality.Deer skin, leather and exotic skins of innovative form and design!

House of Skins introduces you to a stunning range of reversible jackets (men and women) made of the best quality leather and most exotic skins such as alligator, python, ostrich, crocodile and galusha. A staggering work of the material, offering a mix of cuts and colors never seen before.

House of Skins' originality lies in its unique concept. A team of professionals will help you to create a custom made jacket that looks like and feels your skin. You will be advised for the creation of a model adapted to your personality and mood. A sober-looking side to wear by everyday, and the reverse more sophisticated or even eccentric for the night!

The essential item of every wardrobe to pepper the daily life and to give you a tremendous style. Obvious choices for stylistic daring individuals! A style widely represented by personalities and US rock stars now available in France and Europe.

Contacts & showrooms
Showrooms
House of Skins
73bis, Avenue de Wagram
75017 Paris, France


Contacts
House of Skins
Sales Department
Executive
73bis, Avenue de Wagram
75017 Paris, France


House of Skins
Sales Department
Assistant de Direction - Chargée de communication
73bis, Avenue de Wagram
75017 Paris, France