Designer
Wanny Di Filippo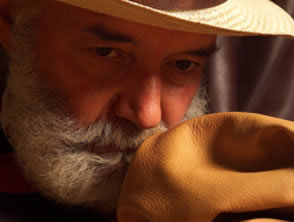 Label
It was in 1970 that Wanny Di Filippo established Il Bisonte, an artisan workshop originally located in the heart of Florence in via del Parione, between Via Tornabuoni and the Lungarno in the historical Palazzo Corsini, making leather handbags, travel bags, briefcases, SLG, belts and stationery accessories.

Timeless items made of the finest "vacchetta" leather: a natural vegetable tanned cow-hide which has the unique feature of becoming more and more attractive by the patina that time and sunlight confer on top.

But why a brand name such as Il Bisonte ? Wanny, who created the logo explains: "I've always been fascinated by the feeling of peace and strength that bisons convey. For centuries these animals have been source of life and future for the people who roamed in Northern America territories. Nowadays it is a symbol that I proudly use to "sign" my product."
Over the years, even if product has kept a top-level quality and its unique design, the company has grown enormously with a sensible increase of goods produced and human resources. This phenomenon has lead to a radical in-side reorganization which shows its self on one side with production company "Il Bisonte Industriale srl" which operates in the new and modern Pontassieve factory in Florence surroundings country-side as far as all production, shipping as well as sales and press office process are concerned and on the other side with "Il Bisonte srl" company ever since owner of the registered trade-mark which has remained in the antique location of Palazzo Corsini in the center of Florence.
"Il Bisonte Industriale srl" nowadays boasts of a worldwide presence through own agents distribution as well as with the establishment of "House brand" boutiques of property or franchising in Europe, United States and Asia. In spite of this expansion, the company has maintained the style of its origin and the traditional artisan-ship typical of the trademark. The founder, Wanny, still loves his activity and continues to realize with his own hands the shapes which his minds creates with same enthusiasm and simplicity by which he began.
Il Bisonte Industriale srl
via Lisbona, 36a/b/c
50065 Pontassieve (FI), Italy
T : +39 055 83 14 276-777
F : +39 055 83 23 436
firenze@ilbisonte.net
Contacts & showrooms
Il Bisonte
Showroom contact
Sales Department Italy
via Lisbona, 36 a/b/c
50065 Pontassieve (FI), Italy


Raffaella Di Lucia & Valentina Scarnicci
T : +39 055 83 14 276
F : +39 055 83 23 436
firenze@ilbisonte.net
Il Bisonte
Showroom contact
Sales Department France
7/9/11 Galerie Véro Dodat
75001 Paris, France


Catherine Segaud
T : +33 (0)6 07 70 46 87
F : +33 (0)1 47 36 73 73


Il Bisonte
Showroom contact
Sales Department USA
120 Sullivan Street
10012 New York, United States


Joy Daros & Stephan Worobel
T : +1 212 96 68 773


Press contacts
Press offices
Studart
via delle Campora, 51
50100 Florence, Italy


T : +39 055 20 48 784


Morozzo Communication
41, rue de Richelieu
75001 Paris, France
Boutiques
Boutiques Il Bisonte
Beverly Hills
Il Bisonte Beverly Hills
409 North Camden Street
Beverly Hills
United States
T : +1 310 27 53 261
Florence
Il Bisonte Firenze
via del Parione, 31/33 r
50123 Florence
Italy
T : +39 055 21 57 22
Hong Kong
Il Bisonte Hong Kong
Shop k103 1/f, Paradise Mall 100 Shing Tai Road
Hong Kong
China
T : +85 22 57 68 829
Milan
Il Bisonte Milano
via della Madonnina, 10
20121 Milan
Italy
T : +39 02 86 46 01 45
New York
Il Bisonte New York
120 Sullivan Street
10012 New York
United States
T : +1 212 96 68 773
Paris
Il Bisonte Parigi
7/9/11, Galerie Vero-Dodat
75001 Paris
France
T : +33 1 45 08 92 45
Roma
Il Bisonte
via dei Coronari, 105/A-106
00186 Roma
Italy
T : +39 06 68 80 80 97
Taipei
Il Bisonte Taipei
2F,No.15,Fusing North Road
Taipei
Taiwan
T : 88 62 27 31 20 01
Tokyo

Il Bisonte Tokyo
Tokyo
Japan