Designer
IL SISTEMA DEGLI OGGETTI
arises from
Caterina Coccioli, Anna Lottersberger and Alessandro Manzi
, when they know each other and start to design together at the College – Politecnico di Milano. This leads to the passion for iconic-dresses, symbols of fashion, the "uniforms", the quest for particolar fabrics and yarns, for texture and deep colors.
IL SISTEMA DEGLI OGGETTI materializes in 2008 into the partnerships between the three designers and a network of Italian craftsmen.
Caterina Coccioli, Anna Lottersberger & Alessandro Manzi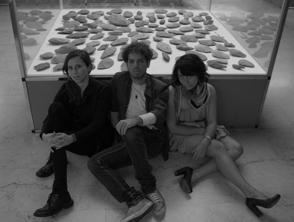 Label
IL SISTEMA DEGLI OGGETTI
has three key values:
.
Everyday uniform
: daily recurrences, tainted by codes and technical features from uniform world, over the army meaning. No 'Mess dress', no need of ceremonies or special occasions.
.
Fascinating ordinary
: daily nature is fascinated by the extraordinary elaboration of proportions, fabrics, colors, printings, seams and other finishings. The history of the single item merges with the personality of the purchaser, emphasizing his own well-being and fulfilment.
.
Sexless
: universal garments-patterns, due to male and female physique, elating the body without exhibitionism or useless eccentricity.
IL SISTEMA DEGLI OGGETTI introduces itself as a young contemporary brand, high-end positioning for a target of male/female adults, completely aware, with a personal and full-grown style, searching for an easy feeling. The collection is for who wants eternal garments, to be proud and enthusiastic of.
Il Sistema Degli Oggetti srl
via Mauro Macchi, 26
20124 Milan, Italy