Designer
Born in Naples, Isabel Benenato refined her creative skills with work experience in a number of ateliers and fashion studies in London. Her artistic education soon evolved into a heart- felt passion for fashion. Isabel's debut dates back to 2008 at White Inside, where she presented a capsule collection of original parallel ribbed knitwear pieces. From the early days, she managed to win widespread support from the fashion crowd. This is the beginning of her creative journey that has taken her to this season's collection, fw11/12, marking the launch of her first man collection, presented at Wow show in Milan and at Tranoi? in Paris. Today Isabel Benenato is driven by passion for her work and inspiration for an effortlessly luxurious fashion.
Isabel Benenato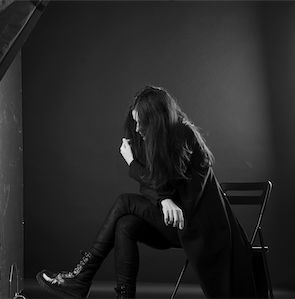 Label
The vision of a landscape, the flow of time, the capture of an image: the philosophy behind Isabel Benenato is narrated through memoirs of a real-life story, heart-felt emotions and feelings. Reality is whispered through the sublime blend of light and shadow, fullness and emptiness in an attempt to grasp the substance of being, in the endless quest for the purest impression. Isabel's stylistic inspiration comes from a sensitive and detailed interpretation of the surrounding reality: sought- after pieces that stand out for their unique aesthetic of original details, unexpected volumes and asymmetries. Stylistically indipendent, Isabel Benenato's creations outlive seasonal trends thanks to her dedication to rich materials and luxurious fabrications and her undivided love for Italian craftsmanship. Unusual geometrics and a variety of fabrications become the subtle liaison of her creations. Tactile seductions made of wool and leather, oversized knits, dress-like maxi-pulls, coats that matches with the gauzy transparency of silk shirts and with the weightlessness of jearsy. A real total look made with harmonious overlap, become the perfect armour for a confident determined woman, but none the less sensual and ethereal. Isabel Benenato's woman is in sync with the world around her, confident and self-aware as well as distant from stereotypes. Isabel Benenato's man is an intellectual tramp with a bohemien look.
Free and rebel spirit to wear unstructured coats and knitwear with exclusive shapes, in order to present a new avant-garde shabby and worn look of those who live on the streets.Minimalist and essential, the woman and man collections are immersed in a colourless mono-shade, perfectly sophisticated, made of rich yarns and precious materials. These clothes are a passe- partout for every occasion, for the ultimate metropolitan look.
Maglificio Noba Spa
via Tazio Nuvolari, 83
55061 Carraia (LU), Italy
T : +39 0583 98 17 20
F : +39 0583 98 15 15
Info@noba1950.com
Contacts & showrooms
Maglificio NOBA spa
Sales Responsible


Maglificio NOBA spa
Accounting and Logistics Responsible


Isabel Benenato Showroom
Showroom contact
via Friuli 66
20135 Milan, Italy