Designer
Maria Calderara
si forma all'Università di architettura di Venezia. Negli stessi anni, affascinata dalla lavorazione del vetro, inizia a realizzare bijoux coniugando creatività, sperimentazione e tradizione veneziana. Laureatasi nel 1983, si trasferisce a Milano e apre un proprio showroom recuperando uno spazio industriale nel centro della città. Negli ultimi anni ha affiancato alle sue creazioni una completa collezione di prêt à porter.
Maria Calderara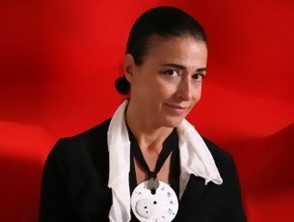 Fashion shows & sales campaign
Sales campaign
New York women's spring-summer 16
from Saturday September 19 2015 to Monday September 21 2015

Maria Calderara
Coterie
The Javits Center - 11th Ave at 37th St
NY 10001 New York , United States
Sales Dept.
info@mariacalderara.it
T : +39 02 67 05 211
Milan women's spring-summer 16
from Thursday September 24 2015 to Tuesday October 20 2015

Maria Calderara
via Lazzaretto 15
20124 Milan , Italy
Camilla Rabolli Pansera
info@mariacalderara.it
T : +39 02 67 05 211
Paris women's spring-summer 16
from Wed. September 30 2015 to Wed. October 07 2015

Maria Calderara
6 places des Victoires
75002 Paris , France
+ Première Classe - Jardin des Tuileries - Oct. 2 to 5
Camilla Rabolli Pansera
info@mariacalderara.it
T : +39 02 67 05 211
T : +33 (0)1 40 20 03 27
Press contacts
Milan women's spring-summer 16

Paris women's spring-summer 16

Contacts & showrooms
Showrooms
Showroom Maria Calderara
via Lazzaretto 15
20124 Milan, Italy


Showroom Maria Calderara
6 places des Victoires
75002 Paris, France


Contacts
Maria Calderara Milan
Sales Department
via Lazzaretto, 15
20124 Milan, Italy


Maria Calderara Paris
Sales Department
6, places des Victoires
75002 Paris, France



Sales Department
Sales Contact


Boutiques
Boutiques Maria Calderara
Paris
Boutique Maria Calderara
23, rue de Cherche-Midi
75006 Paris
France
T : +33(0)1 45 48 90 94