Designer
The brand was launched in 2007 by Christophe Vérot, a fashion veteran, who has held many positions in the industry. Among others, Vérot worked as a PR for Hermès, Balenciaga and Viktor & Rolf and in sales for Dior Homme, Louis Vuitton and Yves Saint Laurent.
When Vérot was on vacation one summer he realized he couldn't find a bathing suit that worked for him so he decided to launch his own line.
Christophe Vérot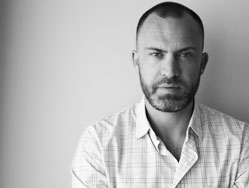 Label
Founded in 2007 on an insight by Christophe Verot, Robinson Les Bains is specialized in beachwear, mixing elegance and fashion. It is the only brand offering a complete line of swimwear for men, from mini-briefs to long board shorts for anyone from the sun worshipper to the avid surfer.

The brand name was inspired by Daniel Defoe's hero Robinson Crusoe and the implication in terms of self-affirmation and self-esteem; it suggests the idea of isolated beaches and adventure. "Les Bains" evokes the glorious times of the old-fashioned Spa Resorts and the French way of life.
Robinson les Bains is for the refined gentleman, sensible about his look on the beach as well as in the city.
The products are characterized by high-quality fabrics from Italy and France with a wide range of colors, patterns and prints that are partially reinvented each season.
After a successful launch, special attention has been given to the "after beach" line and accessories which complete Robinson Les Bains' universe.
Each year, the Robinson les Bains man discovers a new destination that inspires the collection. Spring-Summer 13 has been inspired by Daniel Craig as Mr Bond and the scenes from the movie « Casino Royale « taking place at the Italian lake Maggiore.
Contacts & showrooms
Robinson les Bains
Showroom contact
Sales Executives


Multilabel showrooms
Italy sales dept.

Elisa Gaito
Elisa Gaito Showroom
info@elisagaito.com
T : +39 (0) 2 54090201
Press contacts
Robinson les Bains
International PR


Press offices
Pop & Roy
41, rue Etienne Marcel
75001 Paris, France


Boutiques
Selection of multilabel boutiques
Berlin

Quartier 206
Fredrichstrasse, 71
10117 Berlin
Germany

London

Selfridges
400 Oxford Street
W1A 1AB London
United Kingdom

Milan

La Rinascente Milano
Piazza Duomo, 12
20121 Milan
Italy

Moscow

Tsum
2, Petrovka Street
103779 Moscow
Russia

New York

Bergdorf Goodman
3 East 57th Street
NY 10019 New York
United States

New York

Jeffrey
449 West - 14th Street
NY 10014 New York
United States

Paris

Colette
213, rue Saint Honoré
75001 Paris
France

Paris

Le Bon Marché
22-24, rue de Sèvres
75007 Paris