Designer
It all started with a trip to Latin America. Emma Francois was 22 and studying economic anthropology when she first visited South America and fell passionately in love with its stunning culture and craftsmanship. The right materials and expertise were to follow. When she came back to Paris, she found herself designing small items in crochet and pure wool, made entirely by craftspeople in the Latin mountains.

The raw materials worked well with the feminine shapes inspired by a familiar urban culture, and the combination was seductive. People loved the idea, and she decided to set her books aside and devote herself full time to the new venture. Sessun was created at the end of 1995. A turning point came in 1998.
The collection had been outside the mainstream, but now it was invited for the first time to Who's Next, with items henceforth made in France. "I wanted to offer a more substantial wardrobe", she says, simply. As she came to grips with traditional manufacturing stages, Emma hunted out future production workshops in Marseille, her chosen home town.
Coming across the Mediterranean Fashion Institute proved decisive: she won the Young Designer prize for 1999-2001, and put her company on a firm footing. Sessun offers women's fashion mixed with urban roots , emphasizing purity of line and favouring luxury materials.
Particular attention is paid to detail, and to the mix of textures.
Emma's clothes are not transient: they are part of a fulfilled lifestyle.
To Sessun,clothes are a medium for expression and dialogue: Vanska from the Collectif Muesli*** produces all the embroidery,prints, applique's and mixed techniques**. Sundae, a talented graphic artist and musician, designs the catalogues.
Emma Francois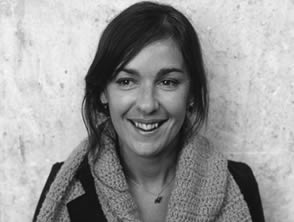 Label
The link between Fashion and Music is well-established, but
Sessun
has made it resonate, with its loyal support for festivals (including Aires 1ibres, Contre-Temps and the Worldwide Festival); and with its original use of the music media (including Dance).
Sessun seeks out talent, and is also noted for its involvement with groups of graphic artists such as Muesli, and Sundae, who attends the Aires 1ibres. By supporting various associations and city-culture festivals, Sessun ready-to-wear encounters interesting people and identifies new talent.
Today,
Emma Francois
manages her business from Marseille. Her concept of ready-to-wear may be seen in over 1,000 sales outlets worldwide (including nearly 200 in France), and in the three Sessun shops in Marseille, Paris and Aix en Provence.
Emma François
Chef Executive Officer


Contacts & showrooms
Sessun
Showroom contact
Export Manager



Marketing - communication


Multilabel showrooms
Sales Representative for Belgium/Netherlands

Sales Representative for Germany

Sales Representative for Italy

Sales Representative for Spain

Sales Representative for United Kingdom

Press contacts
Press offices
Catherine Miran Press Office
50, rue Etienne Marcel
75002 Paris, France
Slam Jam Press Office
c/o Slam Jam Studio - via Pietrasanta, 12
20141 Milan, Italy


Boutiques
Boutiques Sessun
Aix en Provence

Sessun
10, rue Courteissade
13100 Aix en Provence
France

Marseille
Sessun
6, rue Sainte
13001 Marseille
France
T : + 33 (0)4 91 52 33 61
Paris
Sessun
30, rue de Charonne
75011 Paris
France
T : +33 (0)1 48 06 55 66
---
Selection of multilabel boutiques
Auckland

Made
30-32 Customs Street - Britomart
1010 Auckland
New Zealand

Berlin

L'Ephemere
Alte Schönhauserstrasse 44
10119 Berlin
Germany

Brescia

Penelope
via Gramsci, 16
25122 Brescia
Italy

Brussels

Prive Joke
76-78 rue Marché au Charbon
1000 Brussels
Belgium

Chicago

Penelope's
1913 West Division Street
60622 Chicago
United States

Geneva

Because I Love
20, rue Magdalena Karyinsk
1204 Geneva
Sweden

Liège

North Sea
Galerie Cathedrale 46
4000 Liège
Belgium

Munich

Nia
Türkenstrasse 35
80799 Munich
Germany

Paris

Le Bon Marché
22-24, rue de Sèvres
75007 Paris