Designer
Manuela Arcari was born in Bologna, she is introvert and does not enjoy appearing in public. She speaks about herself modestly and sincerely and feels she can discuss her new unshakeable balance based on solid principles.

She joined the world of fashion in 1980 when she began collaborating with the Design and Style Department of a clotheswear firm in her area. Work has become a passion since then and Manuela designed her first collection, which met with unprecedented success both with the public and the press, in 1992.
Mother of two children, she defines
Ter Et Bantine
her "third child". She declares that she brought up all "three" with love and care, protecting them without ever failing to apply strict discipline and without sparing even bitter criticism to enable them to win the freedom of being what they want to be.[readmore]
… "
Speaking of oneself, attempting to describe oneself and relating the details and episodes of the track followed is like making the most merciless decision, the harshest confession and the most invasive self-analysis. I feel I can do it today and I consider this an important goal. I have recently reached a personal inner balance to defend my space and affections and, probably to contrast the disorder and confusion that surround us, I feel stronger and find I can define the principles of my life.

I have always sought the utmost transparency and order. It is not easy to live with these principles; they are rather a way of complicating your life especially if you feel the need to also convey them through your work and to all those who surround you, especially to your children. I found it very hard to find a balance between work and the family as I wanted to succeed in both. I chose to adopt an approach based on the full transparency of feelings and actions.

I have never been tolerant or worse, a friend to my children. I am both firm and an accomplice, I conceal nothing and want to know everything even if it means to suffer. My attitude towards what I call my third child, Ter Et Bantine, is no different. I brought the company up with love and care, protecting and preserving it without ever failing to apply strict discipline and without sparing even bitter criticism to enable the company to independently win the freedom of becoming what it is now.

I consider this an important concept, which I have always fought to achieve: the freedom of being what we are without masks and compromises. Even today it risks being the only real luxury a working woman who manages a firm, which expresses her creative skills, can obtain. A luxury difficult to reach and impossible to maintain.

Hence I have cultivated an instinct of preservation, which is implemented by carefully selecting friends, the people I work with, when to appear, what to do and the few passions to develop. Hence I have defined my area of interest by drawing close to all forms of contemporary art, which can open the mind and improve the perception of the reality we live in. I do not wish to propose the usual parallelism between fashion and art.

I cannot resist being enthralled by a work of art or by an exhibition and I later find that I am stronger and enriched by a more extensive vision of life, love and, why not, work too
".
Manuela Arcari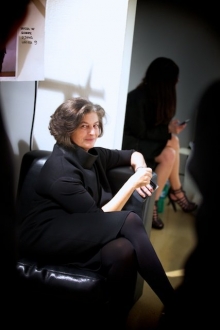 Label
Set up in 1982 in Granarolo Faentino to produce clotheswear, G.F.M. Industria spa belongs to the fabric of small and medium firms characterised by managerial flexibility, production skills and adaptability, which are some of the most important heritage of Made in Italy products.

In 1994, following the firm's growth, a new head-office was established: a former sugar factory, which stretches across a surface area of 18,000 square metres. It is a sort of village consisting of buildings with exposed stone walls and extensive full-height interiors with wooden rafters. Renovation works respected the site's original identity without altering its rigorous industrial spirit. Hence the place is reborn into a new life of craftsmanship.

1992 marked the beginning of the Ter Et Bantine brand's production. The brand name was once adopted by the French stylist Chantalle Thomas. An evocative name chosen to reflect on the collections both an international trend and the touch of easy refinement typical of the French ready-to-wear fashion.
In 1999 it landed in Milan, the capital of fashion, with a large bright 1,000 square metres showroom in via San Francesco D'Assisi, in the heart of the city. The showroom was designed with clear compositive features by the Clerici De Molinari architectural firm.
The firm currently numbers 60 employees and its turnover reached 10 million euros in 2003. It has an international distribution in select retail outlets. Leading roles are played by
Manuela Arcari
, Chairman of the Board of Directors, and
David Agus
, who joined the firm as Managing Director after business experiences with other well-known brands.
David Agus
Amministratore Delegato


G.F.M. Industria spa
via Zanzi, 16
48019 Granarolo Faentino (RA), Italy
T : +39 0546 41 855
F : +39 0546 41 825


Contacts & showrooms
Ter et Bantine Milan
Showroom contact
Sales Manager & Showroom Manager
via San Francesco d'Assisi, 15
20122 Milan, Italy


Ter et Bantine Paris
Showroom contact
Sales Manager & Showroom Manager
27, rue d'Argenteuil
75001 Paris, France


G.F.M. Industria
Showroom contact
Sales Director
via Zanzi, 16
48019 Granarolo Faentino (RA), Italy


Ter et Bantine New York
Showroom contact
Sales Department
76, Greene St
10012 New York, United States


Press contacts
Press offices
Negri Firman PR & Communication
110 Greene St, #1103
10012 New York, United States


Boutiques
Selection of multilabel boutiques
Mantova

Bernardelli
piazza Marconi, 27
46100 Mantova
Italy

Tokyo

Dressterior
1-6-5 Jinnnan Shibuya-ku
Tokyo
Japan

Milan

Gio' Moretti
via della Spiga, 9
20121 Milan
Italy

Riccione (RN)

Papete Boutique
viale Ceccarini, 75/77
47838 Riccione (RN)
Italy

San Francisco

Susan of Burlingame
3685 Sacramento street
San Francisco
United States

Moscow

Tsum
2, Petrovka Street
103779 Moscow
Russia

Los Angeles

Vionnet
158 Nord Robertson boulevard
Los Angeles
United States

Milan

Bardelli
corso Magenta, 13
20123 Milan
Italy